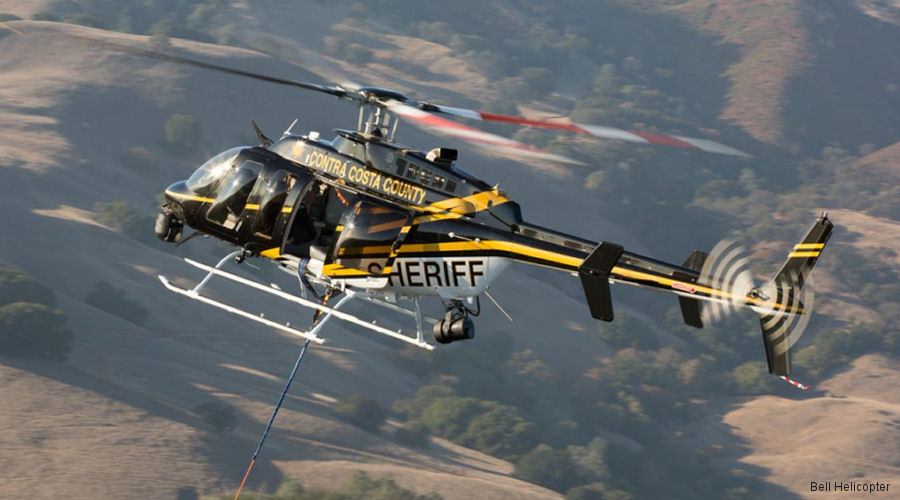 Bell Helicopter, July 26, 2017 - Bell Helicopter would like to announce its presence at the Airborne Law Enforcement Association (ALEA) exposition July 26th – July 28th in Reno, NV.

At the Bell Helicopter booth #172, Bell will display the Bell 407GX and feature one of our loyal customers, Contra Costa County Sheriff's Office. Come stop by and meet with our regional sales managers and our customer support and service representatives!

Contra Costa's Air Support Unit, based in Concord, California, is renowned for their law enforcement, rescue, and fire protection services; having been a Bell customer for nearly 23 years.

"The Bell 407GX is a high-performing aircraft that offers the latest in parapublic technology, enabling unparalleled on-the-fly multi-mission tasking to support officers in protecting our community," stated Capt. John Lowden. Bell Helicopter would like to thank Contra Costa Sheriff's Office for their long-time commitment to Bell and operating our products for their important missions.

The Bell 407GX is highly versatile, state of the art helicopter. This aircraft is known for its power, speed and smooth ride with spacious cabin. Its multi-mission ready layout accommodates six passengers and can be equipped with optional hoist for search and rescue missions as well as carry out command and control missions. The 407GX features the Garmin G1000H™ flight deck, providing critical flight information at a glance for greater situation awareness and increased safety. The flight deck includes high-resolution LCD screens, hosting Primary Flight and multi-function display information.

ALEA is a non-profit educational, individual membership organization, founded in 1968 to support and encourage the use of aircraft in public safety. The organization's vision is to promote the safe and successful completion of each airborne public safety operation. We are thrilled to be a part of this event, so please stop by our booth to learn more about our products.
Location :


Reno-Sparks Convention Center


CoCo

Contra Costa County Sheriff Office
State of California