Bell 407GX

Bell 429
Bell Helicopter, September 22, 2014 - Nashville, TN – Bell Helicopter, a Textron Inc. company, will showcase two aircraft at the Air Medical Transport Conference (AMTC), opening today at the Music City Center in Nashville, Tenn.

Attendees will get an up close look at two non-profit organization's aircraft, including HALO Flight's Bell 429 which was purchased last year at the show, and LifeFlight Eagle's Bell 407GX.

"This year we are proud to showcase our customer's Helicopter Emergency Medical Service (HEMS) Bell 429 and Bell 407GX," said Anthony Moreland, Bell Helicopter's managing director of North America. "Our customers rely on these aircraft for their power, speed and large, accessible cabins to help provide life-saving transport in their regions."

During the conference, Danny Maldonado, Bell Helicopter's vice president of Sales and Marketing, will participate in the MedEvac Foundation's Hero Retrieval a program that brings together medical transport and aviation leaders to raise money for medical transport research and education programs.

The MedEvac Foundation leads several other large scale fundraising efforts with the goal to spread the message that medevac and critical care transport saves lives, and collaboration with the medevac community can increase knowledge and reach of these life saving efforts.

"I am honored to accept the mission to challenge others in our industry to support such a great cause for the second year in a row," said Danny Maldonado. "We are proud to have already exceeded our MedEvac Foundation goal of $25,000 and we are committed to aid in the global advancement in the air medical field and believe that the long-term benefits of building infrastructure and understanding around HEMS operations will help save lives throughout the world."

AMTC is designed to provide leadership, education, information and updates on the latest techniques and innovative approaches to emergency medical transport practice from experts in a variety of different fields.

"AMTC is a great place to exhibit our latest technological advancements HEMS operators need such as the Garmin G1000H avionics suite that replaces analog gauges with electronic instrument readouts," added Moreland. "These advancements reduce pilot's workload, and increase the availability of critical flight information."

About the Bell 407GX: The 407GX delivers power and speed with a smooth, quiet ride and a spacious, multi-mission ready cabin that accommodates six passengers. Built on the proven performance and reliability of the Bell 407 platform, the 407GX features the Garmin G1000HTM flight deck, providing critical flight information at a glance for greater situational awareness and increased safety. The flight deck includes high resolution LCD screens, hosting primary flight display and multi-function display information, as well as an Integrated Avionics System with Helicopter Terrain Awareness Warning System, Helicopter Synthetic Vision TechnologyTM, Traffic Information Systems and ore.

About the Bell 429: The Bell 429 is one of the most advanced light twin helicopters ever developed, delivering exceptional speed, range, hover performance and enhanced safety margins with a fully-integrated glass cockpit, advanced drive system and best-in-class WAAS navigation and IFR capability. The Bell 429 has more cabin space than any other light twin helicopter with flat flooring and seating for seven passengers and one flight crew. Wide 60" side doors and optional rear clam-shell doors provide quick and easy access for flight officers when every second counts.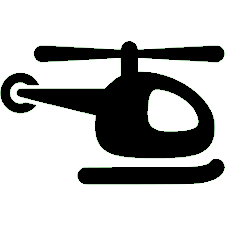 Aircraft mentioned in this article :
407GX N301LE 429 N429HF




Bell Helicopter