Sikorsky in the Army Modernization Program


From infrastructure to analytics, the Raider X and Defiant helicopters, which are competing in the US Army modernization programs, are designed to reduce maintenance and improve operating time on several fronts

Lockheed Martin, August 09, 2020 - As the battlespace evolves, new technology — underlined by decades of experience — has allowed Sikorsky and Lockheed Martin to launch a platform designed for tomorrow's operational landscape.

The battlefield is undergoing an evolution. Spurred by emerging technologies like artificial intelligence, machine learning, nanotechnology and robotics, the warfighter is encountering today a dramatically shifting landscape.

In order to maneuver effectively in this new environment, the U.S. Army is turning to a vision of future warfare known as multi-domain operations, MDO, which seeks to meet adversaries across numerous domains in a simultaneous, coordinated action.

As the U.S. Army works to realize MDO, the change marks not just a shift in warfare itself, but in the operational landscape of rotorcraft and rotorcraft sustainment. Both the Sikorsky RAIDER X™ for FARA and the Sikorsky/Boeing DEFIANT™ for FLRAA integrate revolutionary advances in sustainment building on two decades of investment in analytics and artificial intelligence by both Sikorsky and Lockheed Martin to develop predictive maintenance algorithms, on board maintenance diagnostics and prognostics that create a paradigm shift for global readiness and will enable Maintenance Free Operating Periods (MFOP), increasing operational availability.

"The operational requirements for military use of helicopters are changing and sustainment needs to change along with it," says Tony Guarino, business development lead for Lockheed Martin.

"With the shift to a multi-domain operating environment, we're going away from the single large brigade sustainment model and now changing that paradigm and distributing platoons across different theaters of action," says John Steiner, senior program manager at Sikorsky, a Lockheed Martin Company

To meet this paradigm shift, Lockheed Martin is ushering in a more predictable and manageable rotorcraft sustainment landscape. Future Vertical Lift (FVL) promises to increase efficiency, reduce life cycle costs and accelerate the development-to-battlefield timeline.


Decreasing Maintenance, Increasing Availability

From infrastructure to analytics, Lockheed Martin's RAIDER X™ and DEFIANT™ are designed to reduce maintenance and improve operating time on several fronts. First and foremost is the digital thread and 3D virtual environment, allowing maintenance teams to look "inside" aircraft with digital tools and models so that teams can provide maintenance on an as-needed basis instead of an inflexible time-based schedule.

"The enduring fleet has limited Health & Usage Monitoring System, HUMS, and the aircraft are sustained with a transactional model of support," says Steiner. "FVL aircraft will provide much more actionable maintenance data, providing commanders with information to accurately assess the health state of the weapon systems as well as the ability to self-diagnose maintenance and predict aircraft availability. That increases the operational readiness and availability and reduces life cycle costs associated with that platform."

This condition-based maintenance approach taps an advanced health usage monitoring system that reduces the Soldier's burden and enables maintenance teams to more easily understand the exact condition of a helicopter, ultimately providing the information that teams need to service rotorcraft more efficiently.

The Lockheed Martin approach builds on a foundation of sustainment success in both the military and commercial fleets. Simon Gharibian, director, Global Sustainment Centers of Excellence, Lockheed Martin Rotary and Missions Systems says, "We deployed our first health and usage monitoring system in 2004 on the S-92 helicopter. We've been collecting flight data ever since, meaning we have collected nearly two million flight hours. This has provided us with a decade to continuously mature the technology and algorithms while introducing new artificial intelligence techniques and proving their relevance in driving improved operational availability. This process has driven state-of-the-art forecasting analytics, resulting in a near 90% fully mission capable availability rate, technology that we will use in concert with the U.S. Government to make revolutionary changes in FVL sustainment," says Gharibian.

Lockheed Martin has done similar work on predictive maintenance for the F-35 and the FVL team will leverage the approximate 100 platform-agnostic algorithms that have been developed and deployed under that program.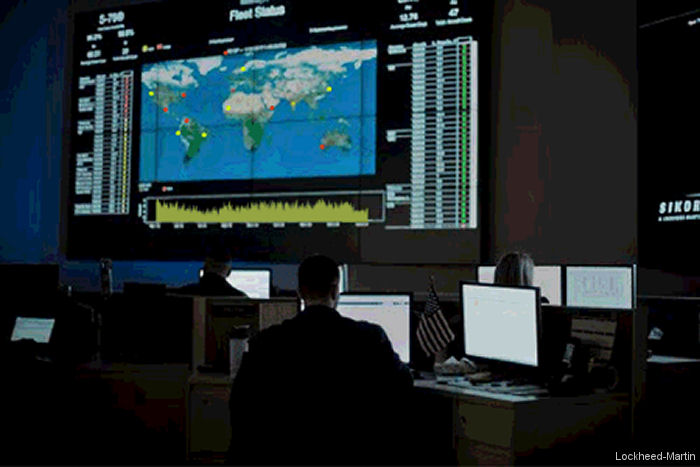 The Sikorsky Customer Care Cente is designed to improve aircraft availability and customer satisfaction using the latest intelligence and analytics capabilities.

This article is listed in :
Programs: FLRAA
Sikorsky SB>1 Defiant
Sikorsky Raider X