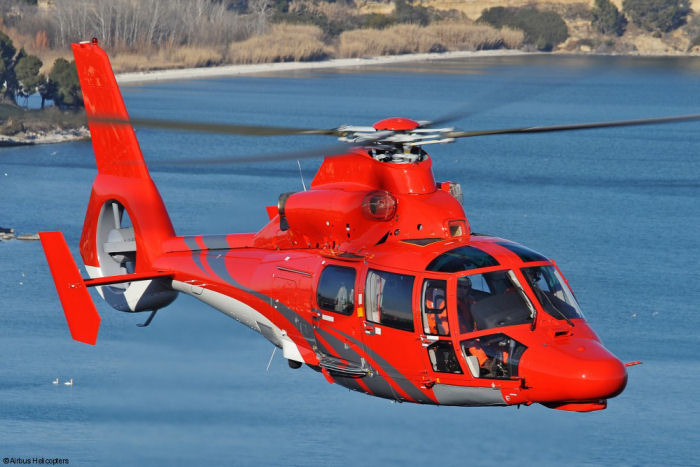 Airbus Helicopters, October 13, 2016 - Japan Aerospace 2016, Tokyo - Airbus Helicopters Japan has signed a contract for one AS365N3+ with the Fukuoka City.

The twin-engine Dauphin family aircraft will replace the currently operated AS365N2. The delivery is scheduled in spring 2018.

The Fukuoka City Fire Department currently operates a fleet of one AS365N2 and one AS365N3+ for firefighting missions. Fukuoka City first introduced the Dauphin family in 1990.

"We are extremely pleased that the AS365N3+ will be introduced by the Fukuoka City to play a key role in its firefighting and rescue missions," said Stéphane Ginoux, President of Airbus Helicopters Japan. "The high-performance AS365N3+ will make a great contribution to Fukuoka City Fire Department's operation. We are committed to providing full support services that fit our customers' needs"

Currently, a total of 54 Dauphin helicopters (50 AS365s and 4 H155s) are operated in Japan. Seven AS365s are deployed by the Japanese police agencies and 23 AS365s are flown in firefighting and disaster relief missions.

The medium-sized twin-engine Dauphin incorporates advanced technologies for rapid flight speeds, low noise and vibration. Equipped with Airbus Helicopters' signature Fenestron® shrouded tail rotor, the rotorcraft's spacious cabin comfortably accommodates up to 13 passengers and two pilots.

About Airbus Helicopters in Japan: Airbus Helicopters Japan was established in 2009 as the Japanese customer center of Airbus Helicopters, a division of Airbus Group. It is the first foreign affiliated aircraft manufacturer to carry out direct sales, training, and customer support activities in the Japanese aeronautical sector. There are approximately 280 employees located at four locations, including Tokyo and Kobe. With more than 50 years of in-country presence, Airbus Helicopters Japan confirms its leadership position with a 55 percent market share overall in Japan (civil and parapublic sectors). Airbus Helicopters Japan makes Japan's sky safer, more reliable and cost-efficient by providing high quality products and services.

Fukuoka City Fire Department
Fire and Disaster Management Agency
Airbus AS365N3+ Dauphin 2

Airbus Helicopters Japan