Volocopter Demonstration at Helsinki Airport


The Single European Sky ATM Research (SESAR) completes the Gulf of Finland U-space project showing how both Air Traffic Management (ATM) and Unmanned Aircraft System Traffic Management (UTM) systems successfully integrated into Urban Air Mobility (UAM)

* Volocopter is a pioneer in development of electrical vertical-take off landing air taxis based on drone technology that can carry up to two people



Volocopter, September 03, 2019 - Helsinki, Finland - Volocopter performed a flight at the Helsinki International Airport successfully integrated into both the Air Traffic Management (ATM) and Unmanned Aircraft System Traffic Management (UTM) system.

Within the Single European Sky ATM Research (SESAR) Programme this demonstration is the final leg of the Gulf of Finland (GOF) u-space project showing how ATM and UTM systems enable Urban Air Mobility (UAM).

Urban environments require reliable solutions to enable safe airspace operations given the increasing number of drones and manned aircraft over cities. The GOF U-space flight trial demonstrated how ATM and UTM can act in combination to enable safe and efficient air taxi operation in urban environments, including airports.

Air Traffic Management is an essential part of aviation keeping all air traffic participants in controlled airspace safe and ensuring efficient operations. Today, the system is primarily used by commercial airliners. New aviation technologies such as drones or air taxis plan to fly in the Very Low-Level Airspace (VLL), which is not yet controlled. SESAR is the technological pillar of Europe's ambitious Single European Sky (SES) initiative to create one coordinated and integrated airspace for commercial, general and drone aviation alike. It pools all EU research and development activities in ATM, with more than 3,000 experts from around the world to develop the new generation of ATM.

"As air traffic continues to rise in number and kinds – especially with the arrival of unmanned aircrafts and air taxis, the technology and rules for using VVL airspace needs updating, " said project coordinator Maria Tamm from Estonian Air Navigation Services (EANS).This is where SESAR comes into place and particularly the GOF U-space project for the integration of UTM into the ATM systems or connecting the uncontrolled and controlled airspace. The demonstration at Helsinki airport showed that various systems are ready to safely and efficiently manage air taxi operations, their related services and subsequent interaction within existing aviation and airspace activities.

Volocopter performed a series of tests with three different leading UTM service providers, namely AirMap, Altitude Angel and Unifly participating in the project for UTM systems and services for the VLL airspace. The providers were tested for compatibility, functionality and usability. For the tests, Volocopter integrated the necessary software and hardware (position report sensor) to perform different test scenarios including ground tests, unmanned and piloted flights. It shows that Volocopter can avail itself of a variety of existing UTM services once in operation.

"We are happy to say that all providers we tested were compatible with the Volocopter systems," said Jan-Hendrik Boelens, CTO of Volocopter: "As a member of the SESAR consortium, we have the rare opportunity to work at the forefront of integrating ATM/UTM with all relevant stakeholders at the table: regulators, airports, air navigation service providers and UTM providers. This pan-European ATM initiative puts another indispensable part of Urban Air Mobility ecosystem into place. We know that air taxi technology is viable: certification has been defined by the EASA, we will build our first VoloPort infrastructure before the year is out and with the GOF U-Space demonstration we have now shown that the existing UTM technologies are viable for UAM. The indispensable aspects of the ecosystem exist, now it's time to bring Urban Air Mobility to life."

GOF U-Space will present the result of all trials over the past year in early October in Helsinki and Tallinn respectively. These events are open for the public.The Volocopter will next fly publicly in Stuttgart, Germany on 14 September and present its VoloPort structure later this year in Singapore.

Functionality includes the following aspects: flight planning and flight planning assistance, detectability and position reporting, deconfliction, flight path indication and provision of air situation awareness, provision of real time information in flight e.g. weather and traffic

Volocopter

The pioneer in the development of electrical air taxis that take off and land vertically (eVTOLs), Volocopter builds aircraft that are based on drone technology and carry up to two people. The company will establish Urban Air Mobility (UAM) in addition to current transportation options in megacities globally. Their aim is to offer affordable on-demand air taxi services and save people time by flying them safely to their destination. Volocopter cooperates with leading partners in infrastructure, operations and air traffic management to build the ecosystem necessary to bring Urban Air Mobility to life.

In 2011 Volocopter performed the first-ever manned flight of a purely electrical multicopter and has since showcased numerous public flights with its full-scale, two-seat aircraft, most notably the autonomous flight in Dubai in cooperation with the local Road and Transport Administration (RTA) in 2017. Founded by Stephan Wolf and Alexander Zosel, Volocopter has more than 150 employees in offices in Bruchsal, Munich and Singapore and is managed by CEO Florian Reuter, CTO Jan-Hendrik Boelens, and CFO Rene Griemens. The company has raised a total of €35 million. Volocopter investors include Daimler and Intel.Find out more at: www.volocopter.com

SESAR

As the technological pillar of the Single European Sky initiative, SESAR aims to modernise and harmonise air traffic management in Europe. The SESAR Joint Undertaking (SESAR JU) was established in 2007 as a public-private partnership to support this endeavour. It does so by pooling the knowledge and resources of the entire ATM community in order to define, research, develop and validate innovative technological and operational solutions.

The SESAR JU is also responsible for the execution of the European ATM Master Plan which defines the EU priorities for R&D and implementation. Founded by the European Union and Eurocontrol, the SESAR JU has 19 members, who together with their partners and affiliate associations will represent over 100 companies working in Europe and beyond. The SESAR JU also works closely with staff associations, regulators, airport operators and the scientific community.

Lennuliiklusteeninduse AS (EANS)

Estonian Air Navigation Services (EANS, Lennuliiklusteeninduse Aktsiaselts) is efficiently operating public limited company acting under private law, which provides Air Navigation Services in Tallinn FIR and at Tallinn and Tartu aerodromes. The Company has a long and fruitful experience in the modernisation of Air Traffic Management (ATM) and Aeronautical Information Management (AIM) systems, airspace organisation and procedures design and implementation.

EANS has experience in the realisation of EU funded development and implementation projects. In year 2013 new PRNAV/CDA procedures were implemented in Tallinn TMA and Sherpa project were successfully finalised– building capacity for SBAS LPV procedures design and implementation, ASM Tool as well as DLS service implementation. In 2012-2014 we worked on IDSG IDP implementation projects. EANS participates actively in different kinds of regional initiatives, i.e. Northern-European FAB implementation projects, in the projects of Borealis ANSPs alliance, particularly expanding the recently implemented NEFAB FRA into NEFRA and Borealis FRA initiatives.

ANS Finland

ANS Finland is responsible for managing the use of Finnish airspace as well as providing air traffic control services at airports in Finland. En-route services include area control services in Finland, airspace management, aeronautical search and rescue and air traffic flow management. Our technological air navigation services maintains and develops all navigation, communication, surveillance and monitoring systems related to en-route services, such as the air traffic control and radar systems required for flight surveillance. Our customers include airports, the commercial aviation industry, the Finnish state's aviation operations and military aviation, general aviation and pilot training schools.

Robots Expert

Robots.Expert (REX) is a consultancy focused on unmanned aviation. REX help companies adopt new drone technology in their business, often through live demonstrations to jump-start understanding of the potential. Robots.expert main focus in the Nordic and Baltic countries is to advance a strong network with drone stakeholders in Europe. REX' personnel have a strong background in UAS, technology and strategy, as well as in project management to support the tasks of facilitating demonstrations and to manage large projects or consortia. Robots.expert is the ambassador in Finland for EIP-SCC Urban Air Mobility.

Frequentis

Frequentis is an international supplier of communication and information systems for control centres with safety-critical tasks. These control centre solutions are developed and distributed by Frequentis in the business segments Air Traffic Management (civil and military air traffic control, and air defence) and Public Safety & Transport (police, fire and rescue services, emergency medical services, vessel traffic and railways).

Frequentis maintains a worldwide network of subsidiaries and local representatives in more than fifty countries. The company's products and solutions are behind more than 25,000 operator positions in almost 140 countries. With this extensive portfolio, Frequentis is the leading provider of voice communication systems… all making our world a safer place every day! For more information, please visit www.frequentis.com

Altitude Angel Limited

Altitude Angel is an aviation technology company delivering solutions that enable the safer integration and use of fully automated drones into airspace. Through its Airspace Management Operating System, GuardianUTM, they deliver the essential software 'building-blocks' that enable national deployments of U-space compatible services. One of Altitude Angel's core objectives is to accelerate the development of drone-related solutions by building and maintaining the many complex 'backend' services.

These services provide the data, storage, identity and command & control structures required to deliver excellent experiences to users via on-board drone solutions and mobile applications. In synchronicity with changing global drone regulations, Altitude Angel has already built a number of key services focused on delivering our long-term vision: fully autonomous, safe control of drones. Altitude Angel's leadership team has a wealth of experience across technology industry, specialising in building massively scalable, secure and distributed cloud based services, and a passion for aviation.

AirMap Deutschland GmbH

AirMap is the world's leading airspace management platform for Unmanned Aircraft Systems (UAS), commonly known as drones. AirMap partners with civil aviation authorities, air navigation service providers, drone manufacturers and solutions developers, and enterprises to integrate drones safely into the airspace. Developed by experts in aviation, airspace management, drone technology, mobile network communication, automotive and policy, the AirMap UTM platform includes solutions for registry, geo-awareness, notification, authorization, and traffic deconfliction to support autonomous, BVLOS operations.

AirMap UTM has been deployed worldwide, including Switzerland, Czech Republic, the United States, and Japan. Visit www.airmap.com for more information.

Unifly

Unifly is the leading Unmanned Traffic Management software developer, deploying the new unmanned eco-system on a national scale in four countries. Since the foundation of the company, Unifly continuous works on upgrading this system according the U-Space blueprint. Due to the step-by-step approach, Unifly can easily integrate legislation and airspace for specific countries and stakeholders. Since 2015, Unifly participates in Horizon2020 projects, targeting specific requirements of the Unmanned Traffic Management system.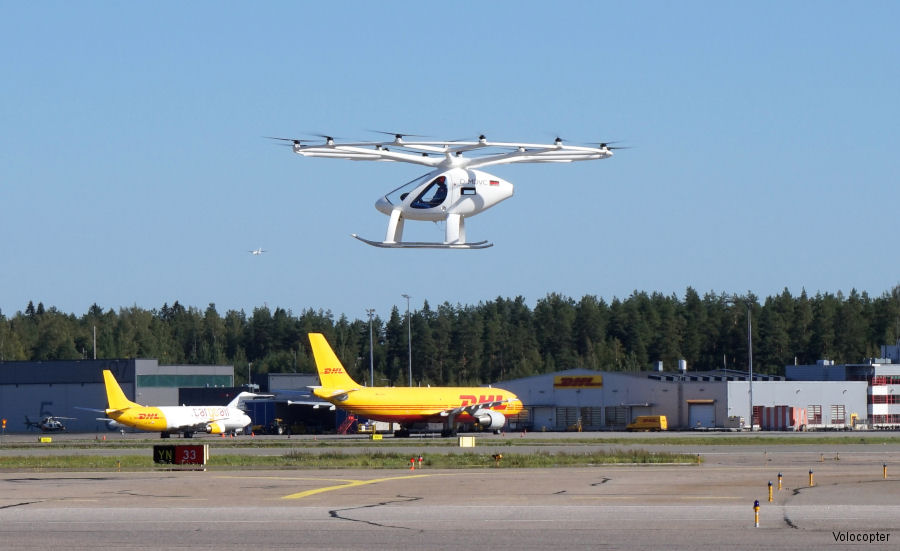 This article is listed in :
Programs: Urban Air Mobility
E-Volo Volocopter VoloCity
--Helicopters UAV & Drones


Helsinki Vantaa