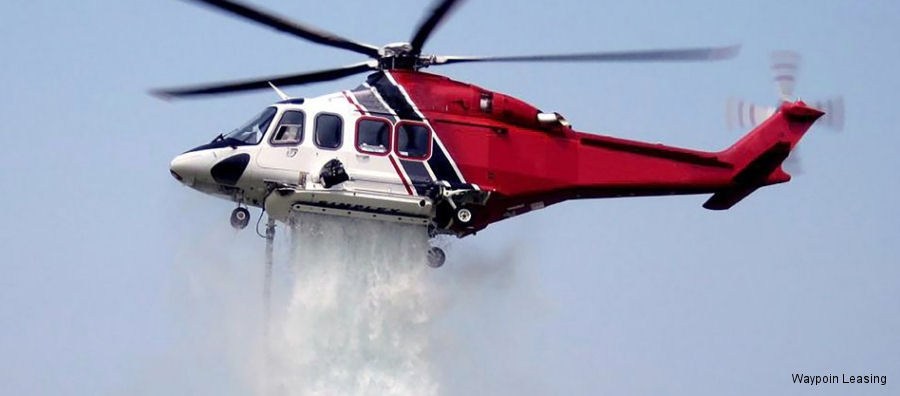 Waypoint Leasing, February 27, 2018 - Waypoint Leasing (Ireland) Limited, the largest independent global helicopter leasing company, today announced in partnership with Leonardo Company, the launch of a comprehensive maintenance and training services offering in support of Waypoint's Medium Utility Helicopter ("MUH") reconfiguration program.

The Waypoint MUH, a utility re-configured AW139, leverages the performance capabilities of the AW139 platform to serve a wide range of utility mission areas, including: firefighting, light EMS/SAR, mining, powerline support, cargo & utility transport, and general aerial work. With these added support services, the MUH program becomes a replacement opportunity for customers operating in the utility segment.

Allan Rowe, Managing Director of Sales & Relationship Management at Waypoint, said, "We are pleased to work together with Leonardo Helicopters and take advantage of the full AW139 lifecycle, which will greatly benefit utility operators. Waypoint's MUH offers modern technology, the latest safety systems, and the superior performance of the AW139 at comparable costs to competing legacy utility aircraft. This program leverages the success of the existing AW139 platform with the opportunity to serve the global utility market segment."

Emilio Dalmasso, Senior Vice President Global Sales at Leonardo Helicopters, said, "The best-in-class AW139 platform, with over two million flight hours to date, has proven itself capable of supporting a wide range of missions. Waypoint's MUH program is an important example of how companies are thoughtfully expanding the lifecycle value of the AW139, while positioning it to meet the modern demands of utility operations. Our programs will be tailored to ensure cost competitiveness, and will include entry into service, training, and dedicated power-by-the-hour support plans."

The aircraft will be on display at the Leonardo booth at HeliExpo in Las Vegas from February 27th. More information regarding the aircraft's demonstration tour will be released in the next several weeks.

Since its inception in 2013, Waypoint has been active in supporting oil and gas, utility, firefighting and other industrial-focused helicopter operators. Waypoint's portfolio includes more than 160 aircraft for 35 customers in 32 countries with total assets in excess of $1.6 billion. Additionally, Waypoint has firm and option orders with aircraft manufacturers for more than 85 helicopters valued at more than $1.1 billion, to be delivered over the next four years.

About Waypoint: Waypoint is a global helicopter leasing company that provides operating lease and financing solutions to helicopter operators worldwide. Headquartered in Limerick, Ireland, Waypoint differentiates itself with a senior management team that has direct helicopter operating and leasing experience in key helicopter markets around the world, having leased helicopters across Africa and the Middle East, Asia, Australasia, Europe, and North and South America. Waypoint serves a wide range of sectors including oil and gas, emergency medical service, search and rescue, firefighting and governmental support. In addition to Ireland, Waypoint has offices in London, the United States, Canada, Hong Kong, Brazil, South Africa, and Australia.

About Leonardo: Leonardo is among the top ten global players in Aerospace, Defence and Security and Italy's main industrial company. As a single entity from January 2016, organised into seven business divisions (Helicopters; Aircraft; Aero-structures; Airborne & Space Systems; Land & Naval Defence Electronics; Defence Systems; Security & Information Systems), Leonardo operates in the most competitive international markets by leveraging its areas of technology and product leadership. Listed on the Milan Stock Exchange (LDO), in 2016 Leonardo recorded consolidated revenues of 12 billion Euros and has a significant industrial presence in Italy, the United Kingdom, the United States, and Poland.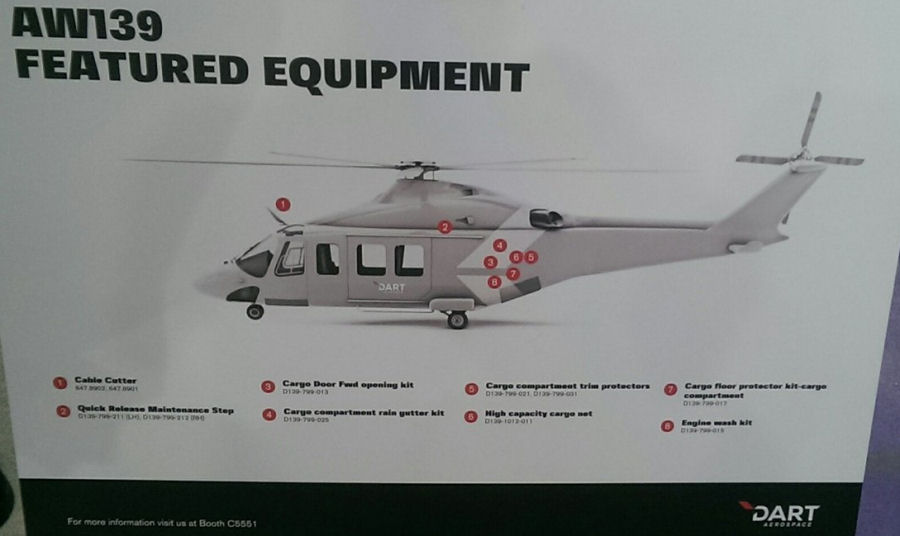 AW139 in

Waypoint Leasing
AW139 in

AgustaWestland Italy
Waypoint and Eagle Introduced AW139 MUH

DART Aerospace