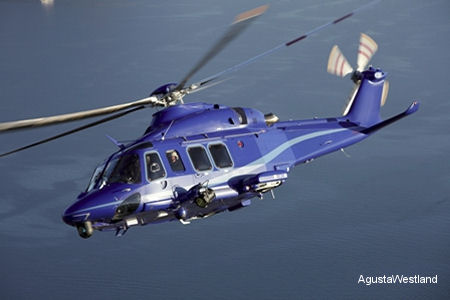 AgustaWestland, October 20, 2010 - AgustaWestland, a Finmeccanica company, is pleased to announce today that it has been awarded a contract by the Maryland State Police Aviation Command to provide six AW139 helicopters for their Medevac fleet program. The $71 million contract calls for the first AW139 to be delivered 18 months after contract award.

These aircraft will be produced at AgustaWestland's Philadelphia, Pennsylvania production facility.

"We are extremely proud to have been selected by the Maryland State Police Aviation Command to provide the AW139 as their fleet replacement aircraft," said Louis Bartolotta, Executive Vice President, North America Sales. "The selection process was an excellent example of the professionalism required to clearly define the technical, operational, and after-sale support aspects to meet the needs of the Maryland State Police. We are honored to be selected for this award and look forward to supporting the State of Maryland and its citizens for many years to come." With this new fleet of AW139's, Maryland State Police Aviation Command will have expanded capability to more fully meet their emergency medical, search and rescue, law enforcement and homeland security missions. The AW139 is a true state of the art, 21st century helicopter successfully performing multi-mission roles throughout North America for U.S. Customs and Border Protection, Los Angeles Fire Department and other major aero medical and search and rescue operators. The safety, economy, performance and capabilities of the AW139 make it the world's best selling aircraft in its class.

The AW139 continues to set new standards in the medium twin market. In addition to its success in the commercial market, the AW139 has established itself as the aircraft of choice among publicly US funded programs. Law enforcement, medical transport and multi-mission operators alike, have selected the AW139 time and again in competitively bid programs. The AW139 is the fastest helicopter in its class with a maximum cruise speed of 167 knots and the only medium twin-engine helicopter in production that meets the latest FAR 29 certification standards for safety. In service since 2003, almost 490 aircraft have been sold to more than 130 customers worldwide in almost 50 countries. In North America, almost 130 have been sold to nearly 30 customers. AgustaWestland continues to expand its Philadelphia-based production facility. A leading local employer, the Philadelphia facility is home to the worldwide production of the AW119Ke light single-engine platform, in addition to production of the medium-twin AW139 and final completions of the AW109 Power and GrandNew light-twin platforms.
AW139 in

State of Maryland