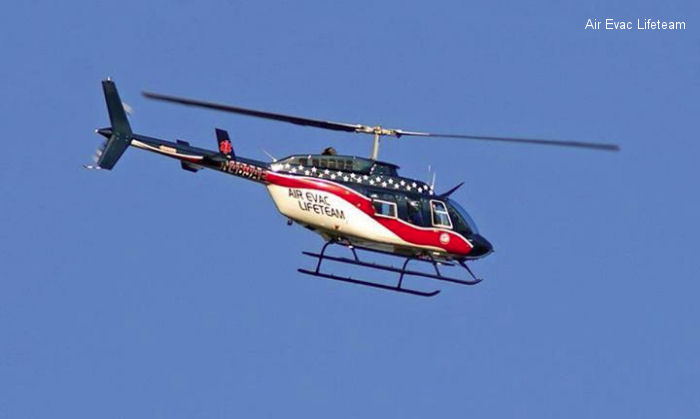 Bell Helicopter, January 14, 2014 - Forth Worth, TX - Bell Helicopter, a Textron Inc. company, announced today a signed agreement for the sale of 20 Bell 206L-4s to Air Medical Group Holdings (AMGH), one of the largest independent providers of helicopter air ambulance services (HAA) in the world.

Deliveries are scheduled to begin this year and continue through 2017.

"These new aircraft will serve as replacements for older aircraft in service as well as provide for growth of the service area," said Seth Myers, President, Air Evac EMS, Inc., a subsidiary of AMGH. "We appreciate the quality aircraft, service and support Bell Helicopter has provided us over the years and look forward to continuing to offer a variety of Bell products to our customers."

Air Evac EMS, Inc., which operates Air Evac Lifeteam, is the largest independently owned and operated membership-supported air medical service in the United States, conducting its operations through 115 mutually-supporting air medical bases across 15 states. The company has established itself as one of the preeminent providers of air ambulance services to communities in need of advanced emergency health care and rapid medical transport and operates the world's largest fleet of more than 130 medically-equipped Bell 206 Long Ranger helicopters, along with additional Bell 407 helicopters.

"We have a long, proud history supporting AMGH and are proud to have announced two significant orders with them in the past year" said Danny Maldonado, Bell Helicopter's executive vice president of Sales and Marketing. "We put the goals of our customers first in everything we do and are proud to play a role as they continue to provide critical, timely care within every market where they operate."

The dependable and reliable Bell 206L-4 provides operators a multi-mission capable helicopter with low operating costs. With seven place seating and more than 2,000 lbs of useful load, the Bell 206L-4 delivers mission flexibility. It also offers superb visibility for difficult scene landings with large cabin windows and wrap-around windows for pilots. It is also supported by a global support network with a variety of product and service offerings including maintenance, repair and overhaul, blade repair, and customization -all backed by Bell Helicopter's #1 ranked Customer Support and Services.

About Bell Helicopter: Bell Helicopter, a wholly owned subsidiary of Textron Inc., is an industry-leading producer of commercial and military, manned and unmanned vertical-lift aircraft and the pioneer of the revolutionary tiltrotor aircraft. Globally recognized for world-class customer service, innovation and superior quality, Bell's global workforce serves customers flying Bell aircraft in more than 120 countries.
206L-4 Long Ranger in

Air Evac Lifeteam