Bell Helicopter, August 07, 2012 - Fort Worth, TX - Bell Helicopter, a Textron Inc. company, announced today that National Airways Corporation, a Bell Helicopter independent representative, delivered the first Bell 407GX to be operated in Africa. The 407GX will be operated by a private customer in a corporate capacity.

"The technology found on the Bell 407GX is unique in the helicopter industry," said Gary Phillips, executive director of Helicopter Sales for National Airways Corporation. "The Bell 407 was already an industry leading helicopter offering superior performance, exceptional passenger comfort and enhanced safety characteristics. The 407GX's next-generation cockpit, combined with the aircraft's rugged airframe, has made it the first choice for those who place their highest value requirements on safety and performance."

Built on the success of the Bell 407, the 407GX is the only helicopter equipped with the Garmin G1000HTM integrated glass flight deck, making it the most advanced light, single-engine rotorcraft on the market. The glass flight deck provides pilots essential flight information at a glance for greater situational awareness, making the 407GX an ideal aircraft for flying in challenging, diverse environments, such as the arid deserts and mountainous terrain of Africa.

"The delivery of the first 407GX to Africa is a testament to the commitment we have made to our customers in every corner of the world to provide innovative product solutions and seamless customer support," said Danny Maldonado, Bell Helicopter's executive vice president of Commercial Sales and Marketing. "We look forward to expanding in this region to meet the critical mission needs of operators in Africa," added Maldonado.

The 407GX includes a variety of operational features such as a choice of maximum internal gross weights, high main rotor clearance (8ft), excellent hover performance, powerful FADEC-controlled engine, comfortable seating for seven and optional Quiet Cruise kit. Blade fold capability, cargo hook and a host of OEM kits and customizing offerings make this aircraft ready for a variety of missions.

The Bell 407GX is backed by Bell Helicopter's #1 ranked Customer Support and Services. Bell Helicopter offers a global support network with a variety of product and service offerings including maintenance, repair and overhaul, blade repair, customizing, spare parts and forty-five customer support engineers around the globe.

About Bell Helicopter: Bell Helicopter, a wholly owned subsidiary of Textron Inc., is an industry-leading producer of commercial and military, manned and unmanned vertical-lift aircraft and the pioneer of the revolutionary tiltrotor aircraft. Globally recognized for world-class customer service, innovation and superior quality, Bell's global workforce serves customers flying Bell aircraft in more than 120 countries.

About Textron Inc: Textron Inc. is a multi-industry company that leverages its global network of aircraft, defense, industrial and finance businesses to provide customers with innovative solutions and services. Textron is known around the world for its powerful brands such as Bell Helicopter, Cessna Aircraft Company, Jacobsen, Kautex, Lycoming, E-Z-GO, Greenlee, and Textron Systems.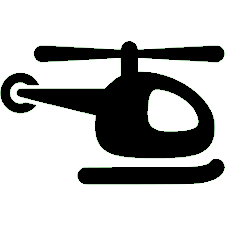 Aircraft mentioned in this article :
407GX ZS-RLM ( )


Bell 407GX