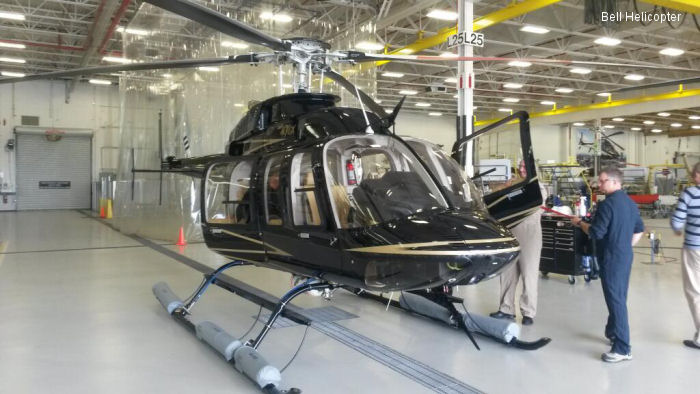 Bell Helicopter, June 24, 2014 - FORTH WORTH, TEXAS – Bell Helicopter, a Textron Company announced the delivery of three Bell 407GX aircraft to two Chinese customers from their Commercial Aircraft Assembly Center located in Mirabel, Quebec, Canada.

Chongqing General Aviation Co., Ltd. took delivery of two Bell 407GX aircraft to be used in China for parapublic missions, including firefighting and search and rescue. These aircraft are part a purchase agreement announced earlier this year for a total of four Bell helicopters, including two Bell 412EPIs. The aircraft will be operated by the Fire Protection Bureau.

Hainan Sanya Yalong General Aviation took delivery of the first of two Bell 407GXs ordered for low-altitude airspace tourism services in the Hainan province. As the only aviation company approved for tourism services in the Hainan province, Hainan Sanya Yalong General Aviation will use the Bell 407GX aircraft for sightseeing, tourism and VIP transport. The company is based out of Sanya in China's Hainan province, a popular tourism and resort island. Hainan Sanya Yalong General Aviation signed the purchase agreement for the two Bell 407GXs at ABACE earlier this year.

"While we are delivering each of these customers Bell 407GX, the wide range of missions they are going to be supporting speaks to the versatility of the aircraft," said Chris Jaran, managing director of Bell Helicopter's commercial business in China. "We are proud to offer a helicopter capable of supporting these missions and continue to see strong customer response throughout China."

Built on the proven performance and reliability of the Bell 407 platform, the Bell 407GX features the Garmin G1000H™ flight deck, providing critical flight information at a glance for greater situational awareness and increased safety. The flight deck's high resolution LCD screens host primary flight and multi-function display information, including Helicopter Terrain Avoidance Warning System, Helicopter Synthetic Vision Technology™, Traffic Information Systems and more. The 407GX also features a tail rotor camera, allowing the pilot a clear view of the tail during take-offs and landings.

About Bell Helicopter: Bell Helicopter, a wholly owned subsidiary of Textron Inc., is an industry-leading producer of commercial and military, manned and unmanned vertical-lift aircraft and the pioneer of the revolutionary tiltrotor aircraft. Globally recognized for world-class customer service, innovation and superior quality, Bell's global workforce serves customers flying Bell aircraft in more than 120 countries.

Chongqing General Aviation Co
CQGA