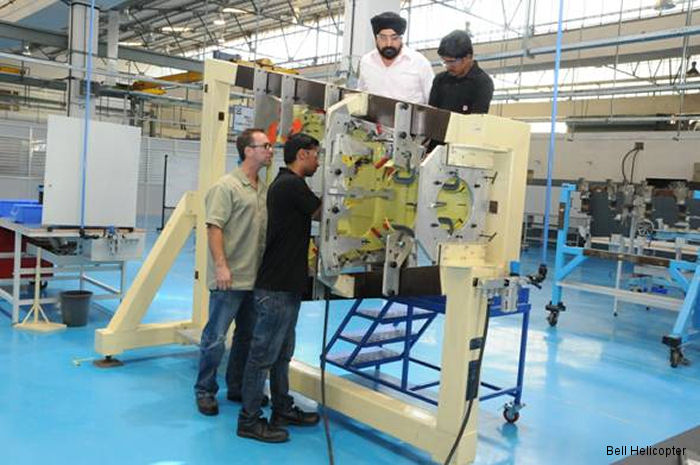 Bell Helicopter, November 19, 2014 - NEW DELHI, INDIA – Bell Helicopter and Textron Systems, both businesses of Textron Inc., announced today an agreement with Dynamatic Technologies Limited of Bangalore, India establishing Dynamatic as a single source supplier of major airframe assemblies for the Bell 407GX and 407GT.

The agreement is for a seven year period with options to extend through the life of the product and follows a Memorandum of Understanding signed in 2012 to mutually explore business opportunities for the production of Bell's model 407 airframe assemblies.

Textron Systems will work cooperatively with Dynamatic and Bell Helicopter to support in-country procurement operations. Both companies remain engaged in identifying additional business opportunities to further build on Dynamatic's Premier supplier capabilities as Bell Helicopter looks to invest and expand operations in the region.

"This agreement with Dynamatic represents a significant milestone in Bell Helicopter's global sourcing strategy and brings efficiencies to our manufacturing process for the Bell 407," said Mike Loeffler, Bell Helicopter's Vice President, Supply Chain. "India represents a significant growth opportunity for sales, operations, and the integrated supply chain. We are pleased to continue our investment in India to build upon our existing capabilities in the region."

Dynamatic has been engaged in the development and production of airframe components and details for the Bell 407 at its Aeronautic manufacturing facilities at Dynamatic Park Peenya since December 2013. Dynamatic has already successfully completed the First Article Acceptance of Aft Fuselage detail parts and recently commenced production for shipment to Bell's aircraft assembly site in Mirabel, Canada.

Bell Helicopter has had a presence in India for nearly 20 years and has an office in New Delhi for business development and program operations. At the Textron India technology center in Bangalore, Bell Helicopter employs a cross-functional team of engineers to support its global operations. Additionally there are two Bell Helicopter Customer Service Facilities in the region; Deccan Charters Private Limited in Bangalore and Air Works India Engg Pvt Ltd in Mumbai. Bell Helicopter also has a dedicated full-time Customer Service Engineer located in Mumbai.

Textron Systems, in conjunction with Bell Helicopter, is cultivating Indian offset relationships in support of current and future international programs. Textron Systems is currently procuring a range of commodities in India via several prime sourcing partnerships, and continues to seek new opportunities to expand its supply base in country.

Dynamatic is headquartered in Bangalore, India, and designs and builds highly engineered products for automotive, aeronautic, hydraulic and security applications. The company has facilities in Europe and India, including Bangalore, Chennai, Coimbatore, and Nasik in India; Swindon, Bristol in the United Kingdom; and Schwarzenberg, Germany.

About Textron Systems: Textron Systems' businesses develop and integrate products, services and support for aerospace and defense customers, as well as civil and commercial customers including those in law enforcement, security, border patrol and critical infrastructure protection around the globe. Harnessing agility and a broad base of expertise, Textron Systems' innovative businesses design, manufacture, field and support comprehensive solutions that expand customer capabilities and deliver value. Textron Systems consists of its Advanced Information Solutions, Electronic Systems, Geospatial Solutions, Lycoming Engines, Marine & Land Systems, Support Solutions, TRU Simulation + Training, Unmanned Systems and Weapon & Sensor Systems businesses.
Bell 407GX

Bell Helicopter India
Bell Helicopter at Aero India 2015