Bell Helicopter, May 22, 2014 - GENEVA, SWITZERLAND – Bell Helicopter, a Textron Inc. company, announced today a signed purchase agreement with King's Casino for a Bell 407GX.

This is the first Bell 407GX to be sold into the Czech Republic.

"We are excited King's Casino has put their confidence in the performance of the Bell 407GX, and our global maintenance and customization ability, "said Patrick Moulay, Bell Helicopter's managing director for Europe. "This further demonstrates that Bell Helicopter and our Prague service facility are ideally suited to the diverse mission needs across Europe."

King's Casino offers a variety of casino games and is home to Europe's largest poker room. The Bell 407GX will be used for VIP and corporate charters across the region.

"Our choice was easy when deciding on the Bell 407GX", said King's Casino President Leon Tsoukernik. "I have flown Bell helicopters in the past, and the exceptional performance and service in Europe have made me a loyal customer."

Built on the proven performance and reliability of the Bell 407 platform, the Bell 407GX features the Garmin G1000H™ flight deck, providing critical flight information at a glance for greater situational awareness and increased safety. The flight deck's high resolution LCD screens host primary flight and multi-function display information, including Helicopter Terrain Avoidance Warning System, Helicopter Synthetic Vision Technology™, Traffic Information Systems and more. The 407GX also features a tail rotor camera, allowing the pilot a clear view of the tail during take-offs and landings.

About Bell Helicopter: Bell Helicopter, a wholly owned subsidiary of Textron Inc., is an industry-leading producer of commercial and military, manned and unmanned vertical-lift aircraft and the pioneer of the revolutionary tiltrotor aircraft. Globally recognized for world-class customer service, innovation and superior quality, Bell's global workforce serves customers flying Bell aircraft in more than 120 countries.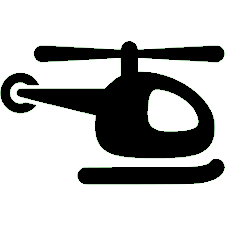 Aircraft mentioned in this article :
407GX OK-SGR ( )


Bell 407GX