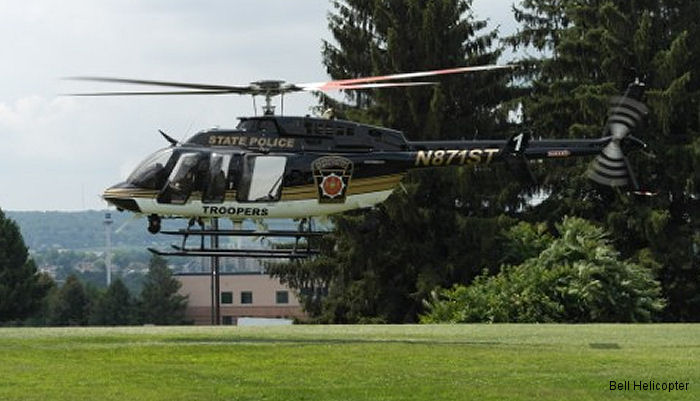 Bell Helicopter, November 20, 2014 - Fort Worth, TX - Bell Helicopter, a Textron Inc. company, announced today the final delivery of the sixth Bell 407GX to the Pennsylvania (PA) State Police.

Announced earlier this year, this marked the 200th purchase agreement made for the Bell 407GX in North America.

"Working with the team at Bell Helicopter to secure our new aircraft has been completely seamless," said Captain William Arndt Jr., director of Special Services Division. "We are certainly happy with the procurement of the new helicopters – as they have already provided great support during a pursuit in northeast PA, and we expect to only see more successful missions in the future."

The aircraft will be used as part of their six aviation patrol units and provide aerial support to all federal, state and local law enforcement agencies within the Commonwealth.

"The PA State Police are long-term customers of ours and one of the first to pioneer the airborne law enforcement missions," said Anthony Moreland, vice president of North American sales. "We worked closely with the team to customize the aircraft to include innovative mission solutions to respond in times of critical incidents or disasters."

The PA State Police have operated Bell helicopters since their first purchase in 1969 when the company delivered two Bell 47s, the first Bell helicopters to be part of an airborne law enforcement team. The unit supports public safety for their police partners and the citizens of the Commonwealth.

"The versatility and performance of the Bell 407GX continues to make it the aircraft of choice for our law enforcement customers," continued Moreland. "This final delivery is not only a win for Bell Helicopter, but a testament to the proven capabilities the Bell 407GX has to offer."

The Bell 407GX delivers power and speed with a smooth, quiet ride and a spacious cabin that accommodates six passengers. The aircraft also features the fully-integrated Garmin G1000H™ flight deck, providing critical flight information at a glance for greater situational awareness and increased safety. The Bell 407GX flight deck's high resolution LCD screens host primary flight and multi-function display information, including Helicopter Terrain Awareness Warning System, Helicopter Synthetic Vision Technology™, Traffic Information Systems and more. The Bell 407GX also features a tail rotor camera, allowing the pilot a clear view of the tail during take-offs and landings.

About Bell Helicopter: Bell Helicopter, a wholly owned subsidiary of Textron Inc., is an industry-leading producer of commercial and military, manned and unmanned vertical-lift aircraft and the pioneer of the revolutionary tiltrotor aircraft. Globally recognized for world-class customer service, innovation and superior quality, Bell's global workforce serves customers flying Bell aircraft in more than 120 countries.
407GX in

State of Pennsylvania
PSP

Pennsylvania State Police
State of Pennsylvania