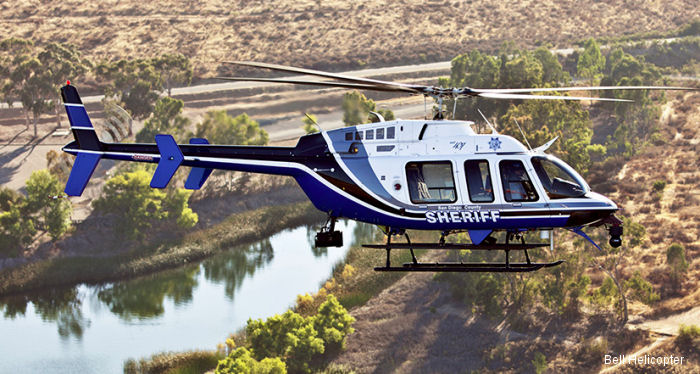 Bell Helicopter, October 28, 2014
- Orlando, Florida – Bell Helicopter, a Textron Inc. company, announced today the sale of two Bell 407GXs to two North American sheriff aviation departments.
One of the aircraft was purchased by the
Maricopa County Sheriff's Office
in Arizona, and the other by the
Contra Costa County Sheriff's department
in California.
The two sheriff departments will use their new helicopters to perform a variety of parapublic missions in their communities.
"The airborne law enforcement market has really been taking off over the last year and we are honored we can provide such a safe and reliable aircraft to serve the people of North America," said Anthony Moreland, vice president of North American sales. "The Bell 407GX is an advanced high performing aircraft that offers the latest in parapublic technology to help increase police productivity."
The Maricopa County Sheriff's Office is located in Phoenix, Arizona and has been a customer of Bell Helicopter for over 15 years with the purchase of their Bell 407 in 1998.
"With the most advanced technology in the industry, the Bell 407GX will enhance our resources to serve and protect our community," said Joe Arpaio, Sheriff of Maricopa County. "We strive to provide a valuable, safe service to the citizens of Arizona, and this aircraft will help us do just that."
The Contra Costa County Sheriff's office, located in Martinez, California has provided their policing services for over 150 years, and have been a customer of Bell Helicopter for nearly 20 years operating a Bell 407 and Bell 206B-3.
"The purchase of a new Bell 407GX will significantly enhance our ability to provide the citizens of Contra Costa County with the most effective law enforcement services available, both on land and throughout the California Delta region", said Contra Costa County Sheriff David O. Livingston. "Proven reliability, first-rate customer service and unparalleled mission capability once again made this particular aircraft the right choice for the public safety mission within Contra Costa County."
The Bell 407GX delivers power and speed with a smooth, quiet ride and a spacious cabin that accommodates six passengers.
The aircraft also features the fully-integrated Garmin G1000HTM flight deck, providing critical flight information at a glance for greater situational awareness and increased safety. The Bell 407GX flight deck's high resolution LCD screens host primary flight and multi-function display information, including Helicopter Terrain Awareness Warning System, Helicopter Synthetic Vision TechnologyTM, Traffic Information Systems and more.
The 407GX also features a tail rotor camera, allowing the pilot a clear view of the tail during take-offs and landings.
About Bell Helicopter: Bell Helicopter, a wholly owned subsidiary of Textron Inc., is an industry-leading producer of commercial and military, manned and unmanned vertical-lift aircraft and the pioneer of the revolutionary tiltrotor aircraft. Globally recognized for world-class customer service, innovation and superior quality, Bell's global workforce serves customers flying Bell aircraft in more than 120 countries.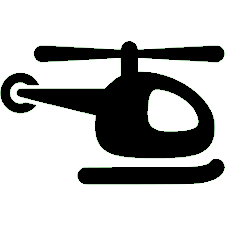 Aircraft mentioned in this article :
407GX N977MS ( State of Arizona )


Bell 407GX
CoCo

Contra Costa County Sheriff Office

State of California


MCSO

Maricopa County Sheriffs Office
State of Arizona