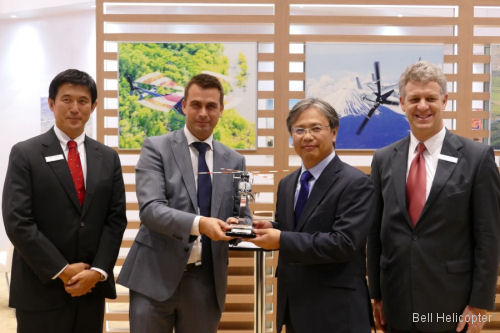 Bell Helicopter, October 14, 2016 - Japan Aerospace 2016, Tokyo — Bell Helicopter, a Textron Inc company, announced a signed purchase agreement for the first Bell 407GXP in Japan by EuroTec Japan Inc., a comprehensive leasing transport, service and support company in Japan.

The aircraft will be outfitted for corporate and VIP transport throughout the region.

Leadership from Bell Helicopter and EuroTec signed for the Bell 407GXP at the Bell Helicopter booth during the Japan International Aerospace Exhibition.

"We are thrilled to be the first in Japan to sign for the Bell 407GXP," said Mr. Masaki Ogura, president of EuroTec. "The smooth, quite ride, combined with the high performance of the aircraft is exactly what I was looking for to quickly and comfortably conduct business throughout the region."

The Bell 407GXP is another example of Bell Helicopter's continued investment in its current products to enhance customer value and increase mission capability. The Bell 407GXP is an upgrade to Bell Helicopter's best-selling platform, the Bell 407, with added value through industry-leading performance, payload capability and operating economics.

"The performance capabilities of the Bell 407GXP make it the right choice for any mission type," said Richard Thornley, Bell Helicopter's managing director of Japan. "We are very pleased EuroTec has chosen the Bell 407GXP to join their operations. They have operated several Bell helicopters, and we look forward to growing EuroTec's Bell fleet for the years to come."

The Bell 407GXP, launched in 2015, is an upgraded to the Bell 407 product line that provides an additional 50 lbs. (22.5 kg) of payload capability, coupled with a new M250 Rolls-Royce engine that improves performance and fuel efficiency delivering class-leading hot and high performance. The Bell 407GXP is also equipped with new avionics features such as hover performance calculator improvement, as well as transmission TBO extension of +500 hours that will lower maintenance costs.

About Bell Helicopter: Bell Helicopter, a wholly owned subsidiary of Textron Inc. (NYSE: TXT), is an industry-leading producer of commercial and military, manned and unmanned vertical-lift aircraft and the pioneer of the revolutionary tiltrotor aircraft. Globally recognized for world-class customer service, innovation and superior quality, Bell's global workforce serves customers flying Bell aircraft in more than 120 countries.
Bell 407GXP

Bell Helicopter Japan