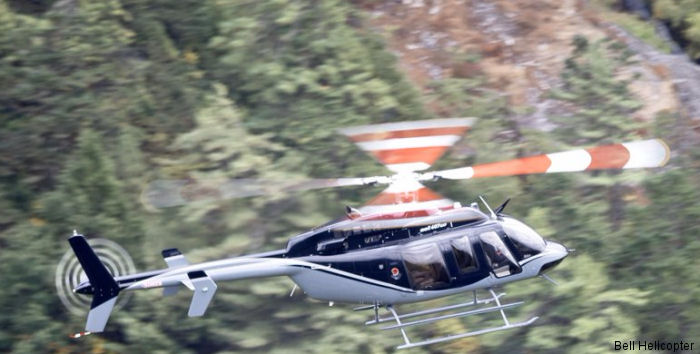 Bell Helicopter, May 25, 2016 - Fort Worth, TX - Bell Helicopter, a Textron Inc. company, announced today the sale of a Bell 407GXP to Sichuan Xiangyun General Aviation Co., Ltd.

The aircraft will be outfitted for VIP transportation and helicopter tours.

Sichuan Xiangyun joined Bell Helicopter in their chalet at the Asian Business Aviation Convention and Exhibition (ABACE) to sign for the aircraft.

Mr. Chris Jaran, Bell Helicopter's vice president of China.

"The performance capabilities of the Bell 407GXP make it the right choice for any mission type," said Chris Jaran, Bell Helicopter's vice president of China. "We are very pleased Sichuan Xiangyun has chosen the Bell 407GXP to join their operations. This is the first Bell helicopter purchase for this company, so we look forward to building on this relationship and providing them with our world-class service and support for years to come."

Last year, Bell Helicopter demonstrated the heightened capability and customer-driven improvement of the popular Bell 407 platform during a successful demonstration tour in Nepal where the aircraft climbed an altitude of 20,000 feet. The new aircraft incorporates the reliability and advanced technology of the Bell 407GX platform, and introduces performance enhancements, payload increase and pilot workload reduction.

ABACE brings together over 8,500 business aviation leaders, entrepreneurs, and other decision-makers. In partnership with the Shanghai Airport Authority (SAA) and cohosted by the National Business Aviation Association (NBAA) and the Asian Business Aviation Association (AsBAA), ABACE takes place at the Shanghai Hawker Pacific Business Aviation Service Centre.

About Bell Helicopter: Bell Helicopter, a wholly owned subsidiary of Textron Inc. (NYSE: TXT), is an industry-leading producer of commercial and military, manned and unmanned vertical-lift aircraft and the pioneer of the revolutionary tiltrotor aircraft. Globally recognized for world-class customer service, innovation and superior quality, Bell's global workforce serves customers flying Bell aircraft in more than 120 countries.
Bell 407GXP

Reignwood