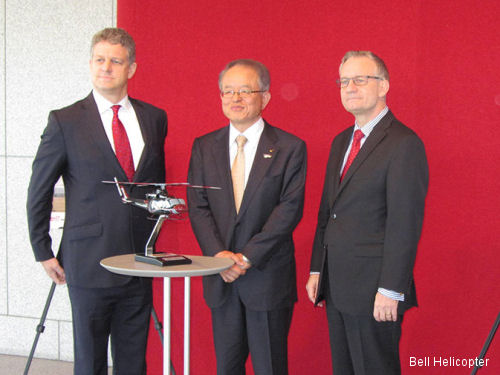 Bell Helicopter, November 13, 2014 - FORT WORTH, TEXAS – Bell Helicopter, a Textron Inc. company, today announced the sale of a Bell 412EP to Nishi Nippon Airlines Co., Ltd.

The sale is the first conducted through Bell Helicopter's new office in Tokyo, Japan.

"We are proud Nishi Nippon Airlines has continued to demonstrate its confidence in the performance and economics of a Bell helicopter to fulfill their missions," said Richard Thornley, Managing Director, Bell Helicopter Co., Ltd. "This sale, conducted through our new Japan regional office emphasizes the benefits of working closely with our local customers to address their specific requirements."

Established in 1953, Nishi Nippon Airlines Co., Ltd. is a general transportation organization providing air cargo and nonscheduled air transportation services. Nishi Nippon Airlines Co., Ltd. began operating Bell helicopters in 1956, with a Bell 47G model. Their new Bell 412EP will perform electric power utility missions and will be added to the company's existing Bell Helicopter fleet of five aircraft, which includes another Bell 412EP, a Bell 429 and three Bell 427 aircraft.

"We have been using Bell helicopters for a long time and recognize Bell aircraft's superiority," said Nobuo Tanoue, President, Nishi Nippon Airlines. "The Bell 412EP has been our workhorse and we have appreciated its superior cargo sling capability for our goods and material transport missions. We are looking forward to taking the first delivery from the new Bell Helicopter Japan office, and we are confident that Bell will provide the industry's best aftermarket support for years to come."

The Bell 412EP easily fulfills many mission critical helicopter operations worldwide, offering reliable performance in some of the most extreme climates. Its dual digital automatic flight control system with available IFR option and Category A/JAR OPS 3 capability provides greater control and improved situational awareness. With a cruise speed of 140 knots (259 kph), range of 358 nautical miles (663 km) and an expansive cabin easily accommodating 13 passengers and two crew members, the Bell 412EP is capable of fitting multiple mission criteria.

Bell Helicopter's support has been ranked #1 in Professional Pilot magazine for 20 consecutive years and #1 in Aviation International News for nine consecutive years.

About Bell Helicopter: Bell Helicopter, a wholly owned subsidiary of Textron Inc., is an industry-leading producer of commercial and military, manned and unmanned vertical-lift aircraft and the pioneer of the revolutionary tiltrotor aircraft. Globally recognized for world-class customer service, innovation and superior quality, Bell's global workforce serves customers flying Bell aircraft in more than 120 countries.

Nishi Nippon Airlines

Bell Helicopter Japan