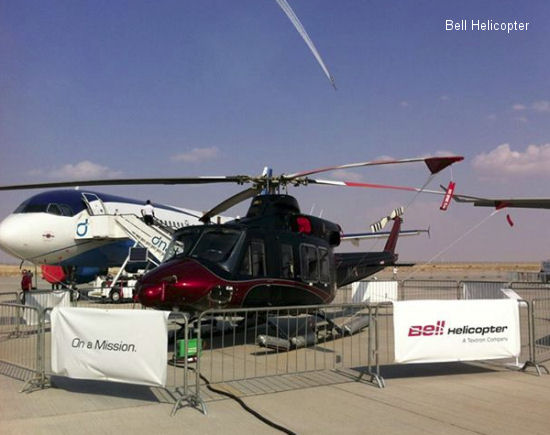 Bell Helicopter, November 18, 2013 - Fort Worth, TX - Bell Helicopter, a Textron Inc. company, is pleased to announce the upcoming delivery of the first Bell 412EPI helicopter in the world to Abu Dhabi Aviation for offshore oilfield support in the United Arab Emirates (UAE).

"The Bell 412 platform has been a vital part of our operations for many years. We chose to add the Bell 412EPI upgrade to our fleet for more flexibility and increased safety in the demanding environment we fly in every day," said Khaled Mashhour, Commercial Director at Abu Dhabi Aviation. "A more powerful engine and improved situational awareness for our pilots are two key features of the Bell 412EPI that will provide the enhanced performance we are looking for."

Abu Dhabi Aviation is the first commercial operator in the world to purchase a Bell 412EPI. The company has been operating Bell Helicopter aircraft for more than 30 years, flying more than 700,000 flight hours in Bell 412 and Bell 212 helicopters. Delivery of Abu Dhabi Aviation's Bell 412EPI will take place before the end of 2013.

"The delivery of the first Bell 412EPI is the culmination of a dynamic effort between Bell Helicopter and our customers to design, develop and produce an aircraft with increased performance for hot and high conditions, as well as improved safety and lowered cost of operations," said Danny Maldonado, Bell Helicopter's Executive Vice President of Sales and Marketing. "We are honored that Abu Dhabi continues to place their trust in Bell products after three decades and we take pride in providing them with the reliable aircraft their challenging missions require."

First introduced in March 2013, the Bell 412EPI improves the Bell 412EP platform with the Bell BasiX Pro™ fully integrated glass flight deck, providing critical flight information at a glance for greater situational awareness and safety. The Bell BasiX Pro™ system is specifically designed to meet the requirements of twin-engine helicopters and is optimized for IFR, Category A and JAR OPS3 compliant operations. The avionics suite also includes high resolution digital maps, electronic charts and approach plates, ADS-B transponder and optional HTAWS and XM satellite links. The new Bell 412EPI also incorporates the power of Pratt & Whitney's PT6T-9 Twin Pac engines, providing 15 percent more horsepower than the standard Bell 412. The Bell 412EPI features the BLR Strake and FastFin system, which modifies the tailboom to optimize airflow and improve handling, safety and lift.

About Bell Helicopter: Bell Helicopter, a wholly owned subsidiary of Textron Inc., is an industry-leading producer of commercial and military, manned and unmanned vertical-lift aircraft and the pioneer of the revolutionary tiltrotor aircraft. Globally recognized for world-class customer service, innovation and superior quality, Bell's global workforce serves customers flying Bell aircraft in more than 120 countries.
412EPi in

Abu Dhabi Aviation