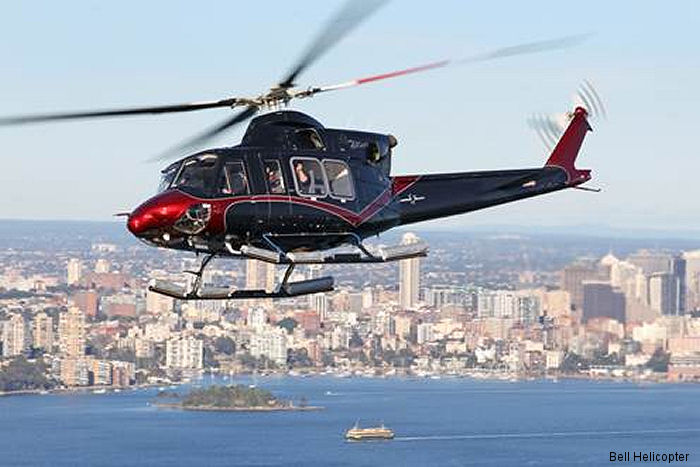 Bell Helicopter, May 11, 2016 - Fort Worth, TX - Bell Helicopter, a Textron Inc. company, announces plans to showcase the versatile capabilities of the Bell 412EPI through a series of customer demonstration flights in Asia Pacific.

Bell Helicopter last demonstrated the Bell 412's capability in 2013 in the region and since then has attracted a number of customers including the Philippine Department of National Defense and the Government of Uttar Pradesh in India.

There are currently more than 150 Bell 412 variants operating throughout Asia Pacific across a range of mission segments including VIP, energy, and general utility – proving the operational versatility of the aircraft.

"Customers around the globe rely on the Bell 412 to consistently perform in the toughest of environments, but also provide smooth and efficient travel across the region," said Sameer A. Rehman, Bell Helicopter's managing director of Asia Pacific. "We are delighted to showcase the versatility of this aircraft to our Asia Pacific customers. The new Bell 412EPI offers more powerful engine performance with a state-of-the-art integrated glass avionics suite that improves situational awareness and reduces pilot workload. We are eager for our customers to experience the power of this aircraft first hand."

Bell Helicopter pilots will embark on a five-month demonstrating tour traveling to a number of countries in Asia.

Want to track the Bell 412EPIs journey? Follow Bell Helicopter on Twitter, Facebook and Instagram, and depending on where you see the aircraft, track its adventure using #Bell412EPi #DemoTour and tag the location! According to the latest updates, the aircraft already left Singapore and is now headed to the first stop.

The Bell 412EPI improves the Bell 412 platform with the Bell BasiX Pro fully integrated glass flight deck, providing critical flight information at-a-glance for greater situational awareness and safety. The Bell BasiX Pro system is specifically designed to meet the requirements of twin-engine helicopters and is optimized for IFR, Category A and JAR OPS3 compliant operations. The avionics suite also includes high resolution digital maps, electronic charts and approach plates, ADS-B transponder and optional HTAWS and XM satellite links. The Bell 412EPI features the BLR Strake and FastFin system, which modifies the tailboom to optimize airflow and improve handling, safety and lift. The Bell 412EPI also incorporates the power of Pratt & Whitney's PT6T-9 Twin Pac engines, providing 15 percent more horsepower than the standard Bell 412.

About Bell Helicopter: Bell Helicopter, a wholly owned subsidiary of Textron Inc.(NYSE: TXT), is an industry-leading producer of commercial and military, manned and unmanned vertical-lift aircraft and the pioneer of the revolutionary tiltrotor aircraft. Globally recognized for world-class customer service, innovation and superior quality, Bell's global workforce serves customers flying Bell aircraft in more than 120 countries.
Bell 412EPi
Bell 412EPI Completes Southeast Asia Demo Tour