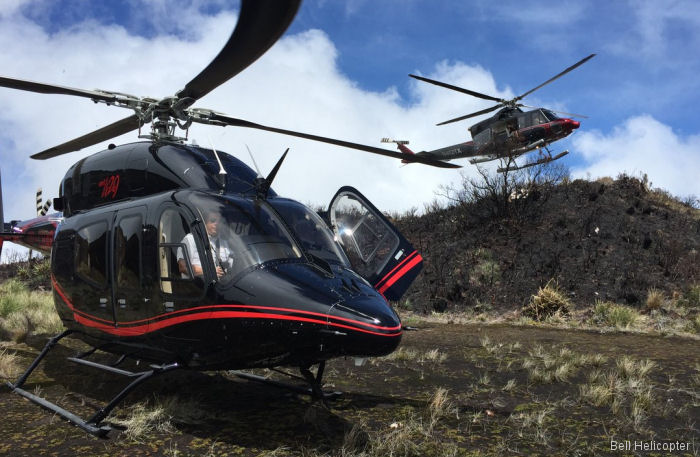 Bell Helicopter, December 01, 2016 - Since the 2013 launch of the EPI version of the Bell 412, the aircraft has seen many parts of the world while showcasing its strength and capabilities.

Earlier this year, a demonstration tour throughout Nepal showcased the Bell 412EPI's performance capabilities in high altitude conditions while navigating Mt. Everest. The Bell 412EPI however, didn't stop after Everest. It made its way to the Philippines and Malaysia.

While in the Philippines, the Bell 412EPI and its crew made stops in the cities of Manila, Cebu and Davao. At each city, the Bell team visited the Air Force bases flying with dozens of Air Force pilots over the course of six weeks. During the six weeks of demos, the Philippine's Under Secretary to the Department of National Defense, esteemed Air Force generals, and the Canadian Ambassador to the Philippines joined the Bell team for flights.

Before leaving the Philippines, the crew visited the city of Davao to again showcase the Bell 412EPIs capabilities at high altitude conditions. The Bell 429 joined them on this endeavor. In Davao a potentially active stratovolcano known as Mt. Apo is the highest peak in the country at almost 9,700 ft. Although the Bell 412EPI has demonstrated its extreme elevation capabilities before, it was time to show those attending in Davao first hand by landing on the summit of Mt. Apo.

"Performance at an elevation of 9,700 ft. was a non-issue thanks to the power of the Bell 412EPI and the Bell 429. This demonstration showcased the helicopter's ample reserve power even when flying at the highest altitude in the country so therefore, operators in the Philippines can operate a broad range of mission in the Bell 412EPI and Bell 429 at high altitude."

As part of the demonstration tour, the team also stopped in Kota Kinabalu in the state of Sabah. This is where the Bell 412EPI showcased its high altitude performance around Mt. Kinabalu with its 13,435 ft. summit – the highest peak in the region. The summit is located within the Kinabalu National Park, which is a designated UNESCO World Heritage Site.

About the Bell 412EPI: The Bell 412EPI improves the Bell 412 platform with the Bell BasiX Pro™ fully integrated glass flight deck, providing critical flight information at-a-glance for greater situational awareness and safety. The Bell BasiX Pro™ system is specifically designed to meet the requirements of twin-engine helicopters and is optimized for IFR, Category A and JAR OPS3 compliant operations. The avionics suite also includes high resolution digital maps, electronic charts and approach plates, ADS-B transponder and optional HTAWS and XM satellite links. The Bell 412EPI features the BLR Strake and FastFin® system, which modifies the tailboom to optimize airflow and improve handling, safety and lift. The Bell 412EPI also incorporates the power of Pratt & Whitney's PT6T-9 Twin Pac® engines, providing 15 percent more horsepower than the standard Bell 412.
Bell 412EPi

Philippines
Bell 412EPI Climbs to New Heights
Bell 412EPI in Tour Across Asia Pacific