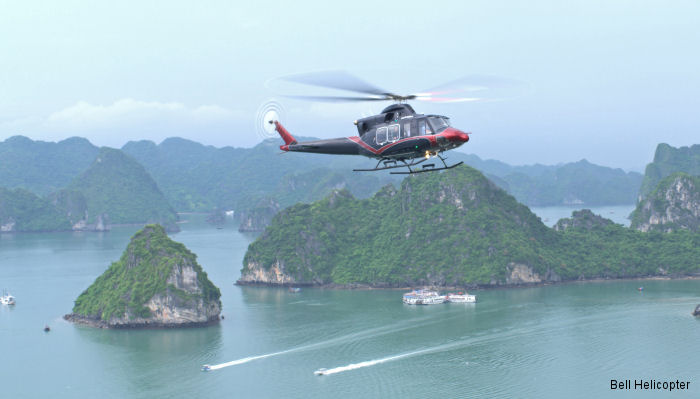 Bell Helicopter, July 20, 2016 - Fort Worth, TX – Bell Helicopter, a Textron Inc. company, announced the successful demonstration tour of the Bell 412EPI in Vietnam.

The demo was organized with the support of the Vietnam Helicopter Corporation (VNH) at Gia Lam airport in Hanoi.

"Bell Helicopter continues to pursue growing opportunities in the Vietnamese market, and we see potential for our modern, multi-mission capable aircraft in this region," said Sameer A. Rehman, Bell Helicopter's managing director of Asia Pacific. "Bell Helicopter intends to be an important part of the U.S. and Vietnam relationship and we were very pleased to strengthen our cooperation with VNH and demonstrate the operational versatility of the Bell 412EPI."

During the two-day demonstration, Bell Helicopter showcased the utility-configured helicopter to more than 100 guests, including government officials, armed forces and public security representatives, VNH management, the Canadian Ambassador to Vietnam and representatives from the U.S. Embassy in Hanoi.

In March 2016, VNH leadership visited Bell Helicopter's global headquarters in Fort Worth, Texas, USA. On this occasion, Bell Helicopter and VNH signed a Memorandum of Understanding to pursue growing opportunities in the Vietnamese market. Additionally, in September 2015, Bell Helicopter demonstrated in Hanoi its newest light twin helicopter, the Bell 429 Wheeled Landing Gear, with the support of VNH.

The Bell 412EPI is continuing its journey across Asia Pacific. Follow Bell Helicopter on Twitter, Facebook and Instagram, and depending on where you see the aircraft, track its adventure using #Bell412EPi #DemoTour and tag the location!

The Bell 412EPI improves the Bell 412 platform with the Bell BasiX Pro™ fully integrated glass flight deck, providing critical flight information at a glance for greater situational awareness and safety. The Bell BasiX Pro™ system is specifically designed to meet the requirements of twin-engine helicopters and is optimized for IFR, Category A and JAR OPS3 compliant operations. The avionics suite also includes high resolution digital maps, electronic charts and approach plates, ADS-B transponder and optional HTAWS and XM satellite links. The Bell 412EPI also incorporates the power of Pratt & Whitney's PT6T-9 Twin Pac® engines, providing 15 percent more horsepower than the standard Bell 412.

Every Bell Helicopter is backed by the largest support network in the industry with more than 100 Authorized Customer Service Facilities located around the world. Ranked number one by customers for 22 consecutive years in the Helicopter Product Support Survey from Professional Pilot Magazine, Bell Helicopter has also earned top honors in Vertical Magazine's first-ever comprehensive helicopter manufacturer's survey. Bell Helicopter is committed to having resources where customers operate to speed up delivery of service and support, and give customers access to service professionals that are easy to reach, know the operating environment and understand their needs.
Location :

Hanoi
Bell 412EPi

Vietnam Helicopter Company