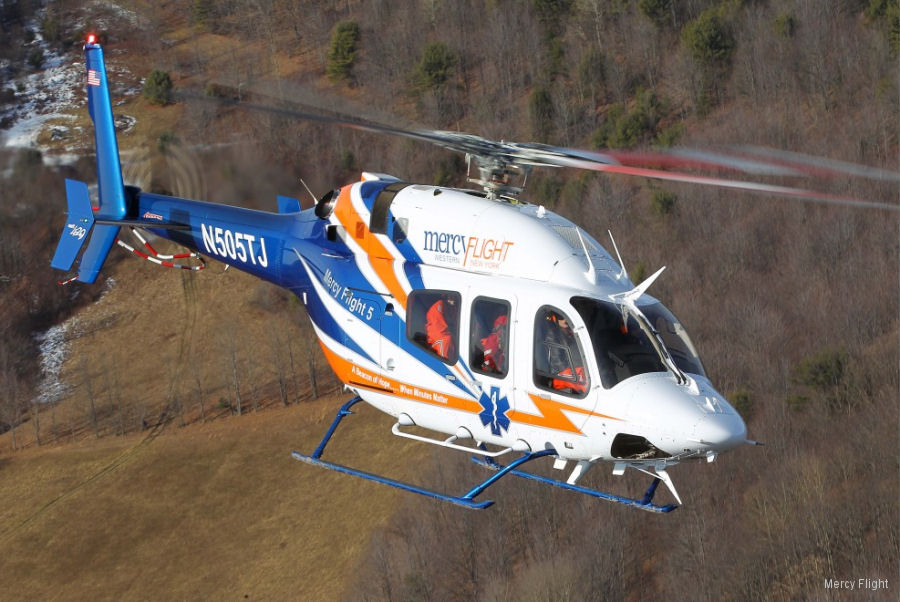 Bell Helicopter, November 09, 2017 - Fort Worth, Texas - Bell Helicopter, a Textron Inc. company, announced today the signed purchase agreement for three additional Bell 429s to Mercy Flight Inc.

"Mercy Flight and Bell Helicopter have shared a rich history since they started their business more than 35 years ago using a Bell 206 Jet Ranger," said Anthony Moreland, vice president, North America. "Today, Mercy Flight remains one of the few non-profit providers of air and ground medical transport services and we are proud to continue to support their mission.".

Established in 1981, Mercy Flight has safely completed more than 27,000 patient missions over the last 36 years. Providing around the clock care servicing all of Western New York, Northwestern Pennsylvania, and beyond.

"Mercy Flight's decision to upgrade their existing fleet to all Bell 429's reflects both the tremendous capabilities of the aircraft and the unrivaled support Bell Helicopter is known for," said Ron Orndoff, regional sales manager, North America. "Its fleet of four aircraft will bring the total to 21 Bell 429s operating in the Northeast U.S., representing every mission segment."

The Bell 429 is the only light twin-engine helicopter on the market with true two-litter capability, featuring enough cabin space for two medical attendants and two crew members. The Bell 429 also offers exceptional flight performance with a fully integrated glass cockpit, advanced drive system and best-in-class SBAS navigation and Instrument Flight Rules (IFR) capability. It is the first helicopter certified through the MSG-3 process, resulting in reduced maintenance costs for operators. The Bell 429 also features a spacious cabin and extra-large 60 inch side doors, as well as IFR capability certified for single or dual pilot operations.

About Bell Helicopter: Bell Helicopter, a wholly owned subsidiary of Textron Inc. (NYSE: TXT), is an industry-leading producer of commercial and military, manned and unmanned vertical-lift aircraft and the pioneer of the revolutionary tiltrotor aircraft. Globally recognized for world-class customer service, innovation and superior quality, Bell's global workforce serves customers flying Bell aircraft in more than 120 countries.

Mercy Flight WNY

Mercy Flight Western New York
State of New York
429 in

State of New York