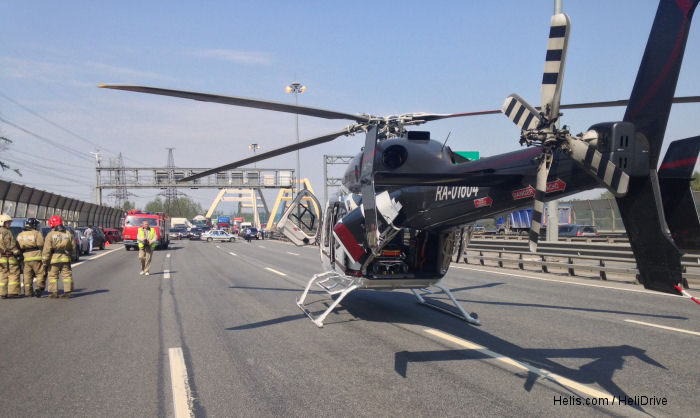 Bell Helicopter, June 13, 2014 - Fort Worth, TX - Bell Helicopter, a Textron Inc. company, announced th Bell 429 is successfully completing key Helicopter Emergency Medical Service (HEMS) missions for new Russian customers.

Heli-Drive, one of Bell Helicopter's independent representatives in the region has customized a Bell 429 and constructed the first six of 16 total helipads at regional hospitals to support HEMS operations in the Saint-Petersburg region.

This is under an agreement with the Ministry of Healthcare of the Russian Federation and Department of Healthcare of Saint-Petersburg.

Heli-Drive's Bell 429 has completed a total of 52 patient evacuations since it went into EMS services in March, 2014

"Our initial evaluation of different EMS helicopters showed us the Bell 429 was the best platform for HEMS operations in Russia," said Dimitriy Kozyrev, head of the EMS project at Heli-Drive. "The Bell 429's ability to quickly change cabin configuration, optimal external dimensions, smooth ride and wide cabin doors suited for ease of access are just a few of the main advantages of this aircraft."

Heli-Drive operates a state-of-the-art helicopter facility in Saint Petersburg. It is very prominent in the region with more than 8,500 square meters of facility space including hangers, service areas, training classes, and more.

Kozyrev also commented, "The aircraft quickly demonstrated its value as we have completed 52 patient evacuations to date.

"We are excited and proud of our aircraft success in Russia," said Patrick Moulay, Bell Helicopter's managing director in Europe. "The completion of several key missions in the region showcases the versatility and performance of the Bell 429 as it continues to take on new missions in Russia and all over Europe."

The Bell 429 also offers exceptional flight performance with a fully integrated glass cockpit, advanced drive system and best-in-class WAAS navigation and IFR capability. Additional safety features include a collective mounted throttle, damage tolerant hub and rotor system, and energy attenuating seats. It is the first helicopter certified through the MSG-3 process, resulting in reduced maintenance costs for operators. The buyer will take advantage of the Bell 429'spacious cabin and extra large 60 inch side doors, as well as Instrument Flight Rules (IFR) capability certified for single or dual pilot operations to better fulfill their mission.

About Bell Helicopter: Bell Helicopter, a wholly owned subsidiary of Textron Inc., is an industry-leading producer of commercial and military, manned and unmanned vertical-lift aircraft and the pioneer of the revolutionary tiltrotor aircraft. Globally recognized for world-class customer service, innovation and superior quality, Bell's global workforce serves customers flying Bell aircraft in more than 120 countries.
429 in

HeliDrive