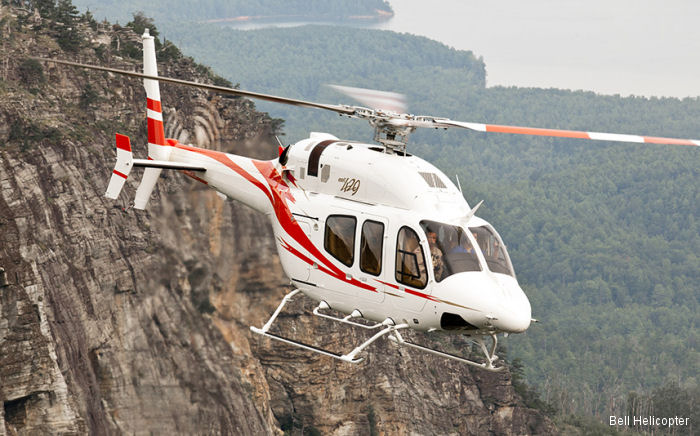 Bell Helicopter, November 26, 2014
- Fort Worth, TX – Bell Helicopter, a Textron Inc. company, announced today the delivery of the 50th Bell 429 in Europe to an operator in the United Kingdom.
The aircraft will be used to accomplish corporate/VIP transport across the region.
"The Bell 429 offers customers exceptional performance and a smooth, comfortable ride, and these capabilities are quickly being realized in the region," said Patrick Moulay, vice president of European sales. "This milestone delivery demonstrates the great success we have seen in Europe with the Bell 429, and we look forward to growing our global and regional fleet even further in the years to come."
The Bell 429 currently operates in every commercial mission in Europe, and provides invaluable support for operators such as,
Turkish National Police
,
National Grid
and
Air Zermatt
.
"The Bell 429 has been successfully performing key operations across all of our mission segments in the region, and has truly showcased its versatility as it continues to take on new missions all over Europe" added Moulay. "The corporate configuration has proven to be the most sought-after choice, making up nearly 35 percent of the Bell 429's customer base in Europe."
The Bell 429 is one of the most advanced light twin helicopters ever developed, delivering exceptional speed, range and hover performance, and enhanced safety margins with a fully-integrated glass cockpit, advanced drive system and best-in-class WAAS navigation and IFR capability. The Bell 429 has more cabin space than any other light twin helicopter with flat flooring and seating for seven passengers and one flight crew. Wide 60" side doors and optional rear clam-shell doors provide quick and easy access for flight officers when every second counts. Other safety features include a collective mounted throttle, damage tolerant hub and rotor system, and energy attenuating seats.
About Bell Helicopter: Bell Helicopter, a wholly owned subsidiary of Textron Inc., is an industry-leading producer of commercial and military, manned and unmanned vertical-lift aircraft and the pioneer of the revolutionary tiltrotor aircraft. Globally recognized for world-class customer service, innovation and superior quality, Bell's global workforce serves customers flying Bell aircraft in more than 120 countries.
429 in

Bell Helicopter Europe