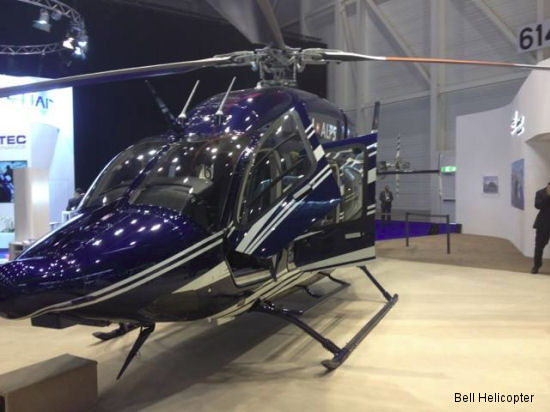 Bell Helicopter, May 20, 2014 - GENEVA, SWITZERLAND – Bell Helicopter, a Textron Inc. company, announced the delivery of a Bell 429 helicopter for operation by Heli-Alps, a Swiss-based company offering corporate transport, sightseeing tours and aerial photography.

This is the first Bell 429 to be configured for VIP transport in Switzerland and was customized at the Bell Helicopter facility in Prague.

"We are honored to have Heli-Alps take delivery of their new Bell 429," said Patrick Moulay, Bell Helicopter's managing director in Europe. "They have set a standard for customers for luxury transport throughout Switzerland and we are excited they have chosen this as their aircraft of choice for their demanding customers."

Heli-Alps supports a number of missions, including scenic tourism, VIP transport, heli-skiing and other utility operations across Switzerland.

"We are extremely excited to begin operating our first Bell 429 helicopter," said Heli-Alps CEO Francis Sermier. "After carefully evaluating what was available on the market, we are convinced there is no better option for a multi-mission, light twin helicopter anywhere. We are already fully booked for the upcoming summer and foresee a great future for this incredible machine."

Serving a company with multiple mission requirements, the Bell 429's flight capacity, comfortable seating, luxurious interior and economical light twin engine all helped drive Heli-Alps' choice of a Bell helicopter. Additional equipment such as the Cineflex Camera and Heli-Ski with utility basket will give Heli-Alps additional capabilities and performance to meet their customer needs in their daily operations.

The Bell 429 offers exceptional flight performance with a fully integrated glass cockpit, advanced drive system and best-in-class Wide Area Augmentation System navigation and Instrument Flight Rules (IFR) capability. Additional safety features include a collective mounted throttle, damage tolerant hub and rotor system, and energy attenuating seats. It is the first helicopter certified through the MSG-3 process, resulting in reduced maintenance costs for operators. The buyer will take advantage of the Bell 429's spacious cabin and extra large 60 inch side doors, as well as IFR capability certified for single or dual pilot operations to better fulfill their missions.

About Bell Helicopter: Bell Helicopter, a wholly owned subsidiary of Textron Inc., is an industry-leading producer of commercial and military, manned and unmanned vertical-lift aircraft and the pioneer of the revolutionary tiltrotor aircraft. Globally recognized for world-class customer service, innovation and superior quality, Bell's global workforce serves customers flying Bell aircraft in more than 120 countries.
429 in

Heli-Alps SA

Bell Helicopter Europe