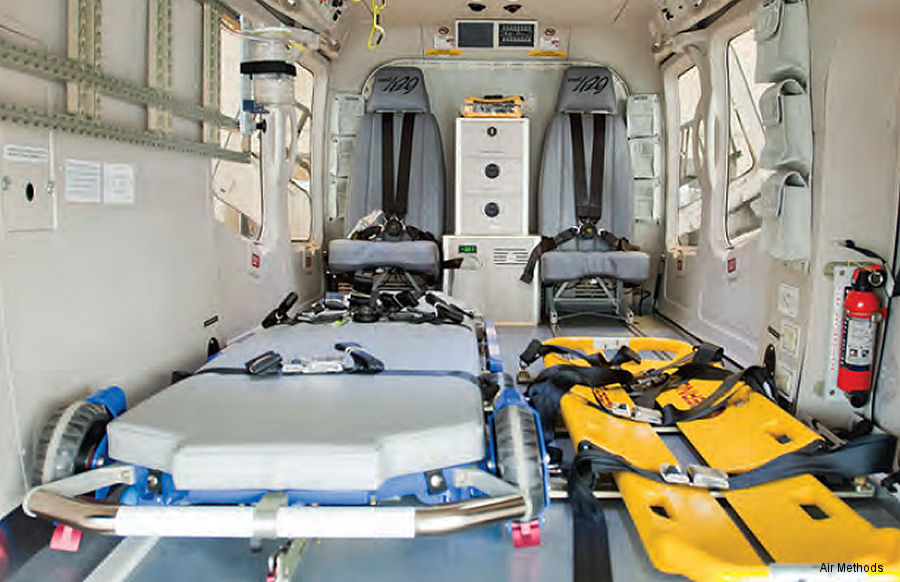 Bell Helicopter, April 11, 2017 - Shanghai, China – Bell Helicopter, a Textron Inc. company, and United Rotorcraft announced today the delivery of a Bell 429 to Reignwood Investment, Ltd., (Reignwood).

The aircraft will serve as the first Bell helicopter for Emergency Medical Service (HEMS) missions in China.

"We are proud to partner with United Rotorcraft to deliver the first HEMS Bell 429 to our friends at Reignwood," said Patrick Moulay, Bell Helicopter's executive vice president, Commercial Sales and Marketing. "There is a critical need for HEMS in China and we are honored Reignwood has selected the Bell 429 to assist in life-saving missions."

United Rotorcraft installed the medical interior which consists of a machined aluminum floor, additional medical crew seating configurations, and product improvements for patient care and access. In addition, the aircraft is equipped with a rescue hoist and other program specific support equipment.

"This delivery and Civil Aviation Authority of China (CAAC) validation for the medical interior represents a two-year effort to bring our product into China and we are delighted to be working with Bell Helicopter and entering this new market segment," stated Frank Graham, senior director of Global Sales and Marketing for United Rotorcraft. "We are confident this will be the first of many opportunities in China available to us because of our product's CAAC validation."

The Bell 429 is one of the most advanced light twin helicopters ever developed. It delivers exceptional speed, range and hover performance, and offers operators a state-of-the-art single pilot IFR helicopter with top user-rated in-service support. The powerful and reliable Bell 429 serves the full spectrum of segments including air medical, law enforcement, oil & gas, utility, and corporate.

About Bell Helicopter: Bell Helicopter, a wholly owned subsidiary of Textron Inc. (NYSE: TXT), is an industry-leading producer of commercial and military, manned and unmanned vertical-lift aircraft and the pioneer of the revolutionary tiltrotor aircraft. Globally recognized for world-class customer service, innovation and superior quality, Bell's global workforce serves customers flying Bell aircraft in more than 120 countries.

About Textron Inc.: Textron Inc. is a multi-industry company that leverages its global network of aircraft, defense, industrial and finance businesses to provide customers with innovative solutions and services. Textron is known around the world for its powerful brands such as Bell Helicopter, Cessna, Beechcraft, Hawker, Jacobsen, Kautex, Lycoming, E-Z-GO, Greenlee, Textron Off Road, Textron Systems, and TRU Simulation + Training. For more information visit: www.textron.com.

About United Rotorcraft: United Rotorcraft, An Air Methods Division, (www.unitedrotorcraft.com) specializes in the design and manufacture of aeromedical and aerospace technology. United Rotorcraft offers a full range of completion, paint, and MRO services and products for Emergency Medical Services, Search and Rescue, Law Enforcement, Utility, VIP, and Military operators.
429 in

Reignwood
429 in

Air Methods
Chinese CAAC Validation For Bell 429 Medical Interior
Bell 429 HEMS for Beijing Yugao Aviation