Bell Helicopter, February 22, 2013 - Fort Worth, TX - Bell Helicopter, a Textron Inc. company, announced today the delivery of two Bell 429s, one to the Nigeria Police Air Wing (NPAW) and another to the Nigeria Emergency Management Agency (NEMA).

These Nigerian deliveries are the first 429 deliveries on the continent of Africa. NPAW will utilize the Bell 429 for general law enforcement, surveillance and force projection. NEMA will fly the aircraft for disaster relief and humanitarian support missions.

"Our Nigerian customers are thrilled to be the first Bell 429 operators in Africa. The Bell 429 is the most technologically advanced and capable light-twin helicopter in the marketplace and will serve the NPAW and NEMA well for many years to come," said Robert Prentice, vice president, Aircraft Sales, Africair, Inc., a Bell Helicopter independent representative in Africa. "They are particularly impressed with Bell Helicopter's reputation for exceptional product support."

The NPAW and NEMA selected the Bell 429 for is large cabin size, state-of-the-art avionics, its smooth and fast ride, and the EASA-approved Bell Helicopter maintenance program that ensures superior post-delivery support and service.

NPAW is a long-standing Bell Helicopter customer, having operated several Bell helicopter models including the Bell 47, 206, 427, 412, and now, the Bell 429. Both NPAW and NEMA formally accepted the Bell 429s in Piney Flats, Tenn. at Bell Helicopter's customizing facility. Final delivery of the aircraft took place upon completion of EASA-approved customizations.

The Bell 429 is the world's newest and most advanced light twin-engine helicopter. It has conducted extensive flight demonstrations in every continent, except Antarctica, and has been certified in more than 40 countries. With configuration options ranging from VIP to HEMS, law enforcement, utility and oil & gas, the Bell 429 offers superior mission capability and adaptability.

Bell Helicopter is home to the industry's largest customer support network made up of more than 100 customer service facilities in 34 countries, six strategically located supply centers, 47 customer support representatives and 43 dedicated product support engineers all focused on fulfilling customer requirements, increasing global responsiveness and lowering direct operating costs.

Named #1 in customer support for eighteen years in a row by the readers of Professional Pilot, Bell Helicopter offers an unparalleled customer experience with complete and seamless support. Bell Helicopter provides personalized service offerings for customers with local support in every corner of the world with services ranging from state of the art customization, aircraft refurbishment and accessories to first class maintenance, repair and overhaul solutions.

About Bell Helicopter: Bell Helicopter, a wholly owned subsidiary of Textron Inc., is an industry-leading producer of commercial and military, manned and unmanned vertical-lift aircraft and the pioneer of the revolutionary tiltrotor aircraft. Globally recognized for world-class customer service, innovation and superior quality, Bell's global workforce serves customers flying Bell aircraft in more than 120 countries.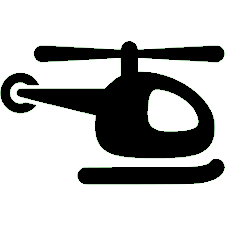 Aircraft mentioned in this article :
429 N466AB N465XB ( Bell Helicopter )


429 in

Nigerian Police

Africair Inc