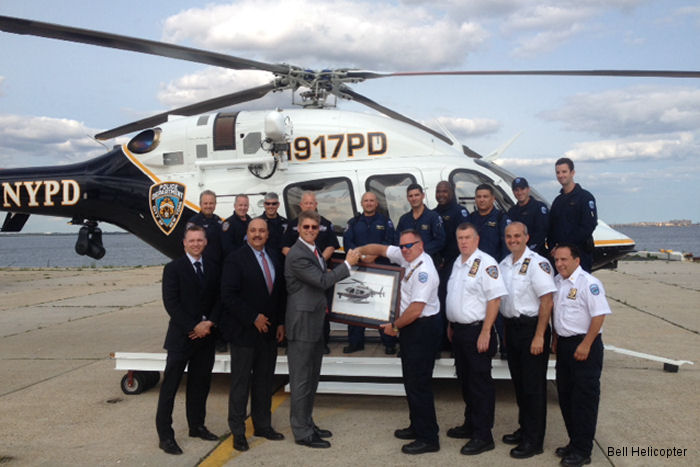 Bell Helicopter, July 30, 2014 - FORT WORTH, TEXAS – Bell Helicopter, a Textron Inc. company, announced today the delivery of the first Bell 429 helicopter to the New York Police Department (NYPD.)

The aircraft will be one of four new Bell 429s that will be used for airborne law enforcement patrol on behalf of the citizens of New York City and surrounding jurisdictions.

The aircraft was delivered in mid-July and the milestone was celebrated by representatives from the NYPD and Bell Helicopter on July 29 during a special delivery ceremony at Floyd Bennett Field in Brooklyn, NY.

In addition, a Bell 407 was delivered in May 2014 to serve as a training aircraft for the fleet.

Once the deliveries and trade-ins are complete, the new Bell 429s will operate alongside two Bell 412EPs for a variety of missions, ranging from search and rescue at sea to gathering intelligence and combating terrorism. Delivery of the NYPD's remaining Bell 429 aircraft is scheduled to be completed in 2015.

"We are extremely happy with our choice of the Bell 429 twin-engine light helicopter," said Deputy Inspector James Coan, Commanding Officer of the NYPD Aviation Unit. "Thanks to the partnership between Bell Helicopter and Helinet Technologies, this aircraft provides us with perhaps the most advanced law enforcement sensor suite available at this time."

Bell Helicopter has been a part of the NYPD since 1948 when it delivered a Bell 47, the first Bell helicopter to be used as part of an airborne law enforcement team. Since then, Bell Helicopter has provided innovative product solutions and world-class customer support and service to maintain its valued, long-standing relationship with the NYPD. In total, there are more than 450 Bell helicopters serving in a law enforcement/parapublic role in the United States.

"Since we introduced the Bell 429, we have seen the global law enforcement community embrace the unique capabilities of this aircraft for their missions," said Anthony Moreland, managing director of North American sales at Bell Helicopter. "We look forward to completing our final deliveries in the coming months and then seeing how the NYPD will use these helicopters to best serve the people of New York City."

The Bell 429 delivers exceptional speed, range, hover performance and enhanced safety margins with a fully-integrated glass cockpit, advanced drive system and best-in-class WAAS navigation and IFR capability. The Bell 429 has more cabin space than any other light twin helicopter, with flat flooring and seating for seven passengers and one flight crew. Wide 60 inch side doors and optional rear clam-shell doors provide quick and easy access for flight officers when every second counts.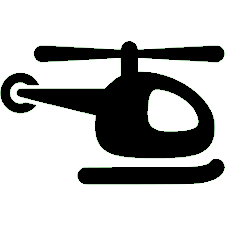 Aircraft mentioned in this article :
429 N917PD ( State of New York )


NYPD

New York City Police Department
State of New York
429 in

State of New York