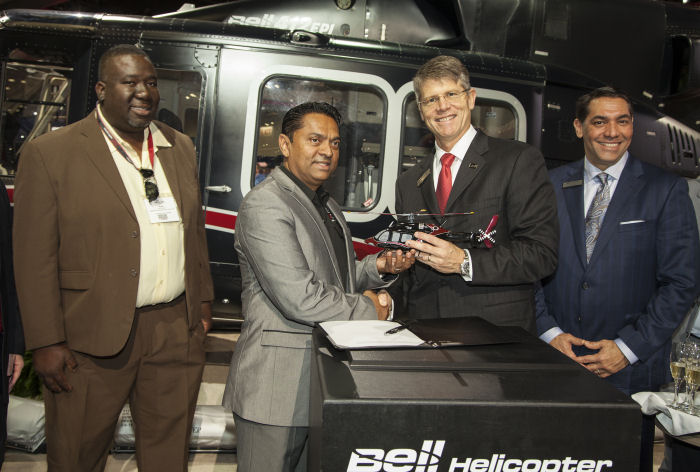 Bell Helicopter, March 04, 2015 - Orlando, FL – Bell Helicopter, a Textron Inc. company, announced today the sale of four Bell 429s configured for Airborne Law Enforcement (ALE) and one Bell 412EPI configured for Search and Rescue (SAR) to the National Operations Centre, Air Division (NOCAD) in Trinidad and Tobago.

The contract was signed by NOCAD Executive Director Mr. Garvin Heerah in a formal signing ceremony at HAI.

"These two aircraft have continued to impress our customers in Latin America with their smooth performance and multi-mission capabilities and we're pleased that more and more parapublic agencies are taking notice," said Jay Ortiz, vice president of Latin American sales. "We're honored that the NOCAD chose these reliable aircraft to support their missions in Trinidad and Tobago."

The aircraft will be used throughout Trinidad and Tobago to provide 24/7 air support for national security and a variety of parapublic missions including disaster relief aid, SAR and medical transportation.

"We needed an aircraft that would meet current mission performance requirements with minimal downtime for changing to various mission roles, yet powerful and reliable to maximize performance capabilities," said Major Paul Brown, deputy director of NOCAD. "The acquisitions of these state-of-the-art aircraft will offer this increased level of performance and safety that will help us better protect our citizens."

"When we made the decision to purchase these aircraft, we were all in agreement the Bell 429 and 412EPI were absolutely the right fit for our operations," continued Major Brown.

The Bell 429 offers the latest technology by providing the best combination of speed, payload, range, and cabin size, coupled with the latest safety improvements. The Bell 429 also offers exceptional flight performance with a fully integrated glass cockpit, advanced drive system and best-in-class WAAS navigation and IFR capability. It is the first helicopter certified through the MSG-3 process, resulting in reduced maintenance costs for operators. The Bell 429 also features a spacious cabin and extra large 60 inch side doors, as well as Instrument Flight Rules (IFR) capability certified for single or dual pilot operations.

First introduced in March 2013, the Bell 412EPI improves the Bell 412EP platform with the Bell BasiX Pro™ fully integrated glass flight deck, providing critical flight information at a glance for greater situational awareness and safety. The Bell BasiX Pro™ system is specifically designed to meet the requirements of twin-engine helicopters and is optimized for IFR, Category A and JAR OPS3 compliant operations. The avionics suite also includes high resolution digital maps, electronic charts and approach plates, ADS-B transponder and optional HTAWS and XM satellite links. The new Bell 412EPI also incorporates the power of Pratt and Whitney's PT6T-9 Twin Pac® engines, providing 15 percent more horsepower than the standard Bell 412. The Bell 412EPI features the BLR Strake and FastFin® system, which modifies the tailboom to optimize airflow and improve handling, safety and lift.

Bell Helicopter, a wholly owned subsidiary of Textron Inc., is an industry-leading producer of commercial and military, manned and unmanned vertical-lift aircraft and the pioneer of the revolutionary tiltrotor aircraft. Globally recognized for world-class customer service, innovation and superior quality, Bell's global workforce serves customers flying Bell aircraft in more than 120 countries.

NSOC

National Security Operations Centre
Trinidad and Tobago Government