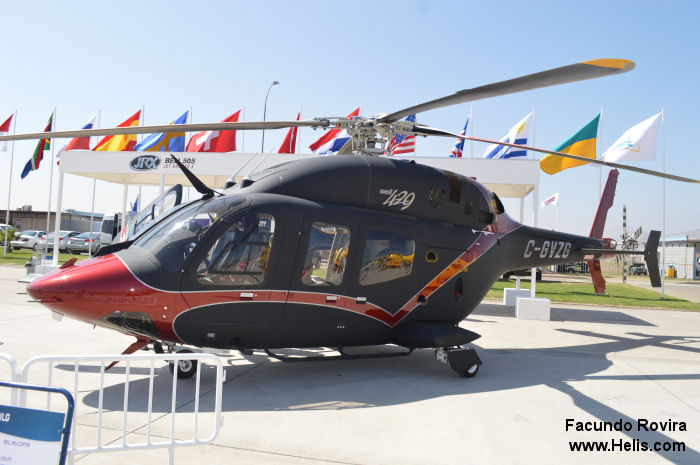 Bell Helicopter, July 31, 2014 - FORT WORTH, TEXAS – Bell Helicopter, a Textron Inc. company, showcased the versatility and superior performance of the Bell 429 WLG, the aircraft's wheeled landing gear variant, with nearly 60 demonstration flights between March 2014 to July 2014 in Latin America.

"We received great feedback from our customers about the retractable landing gear for ground taxi operations," said Jay Ortiz, managing director for Latin America. "Since we introduced the aircraft in late 2013, we have been telling everyone about how well it was suited for this region, but finally had the chance to show firsthand how the proven performance of the Bell 429 easily integrates into a fixed base operations environment."

Bell Helicopter pilots began demonstration flights at the International Air and Space Fair, FIDAE 2014, and traveled to a number of countries, including Chile, Argentina, Paraguay, Brazil, Peru, Ecuador, Venezuela, Puerto Rico, the Dominican Republic, Jamaica and the Bahamas over the course of the five month tour. The flights highlighted the Bell 429 WLG's ability to provide additional flexibility for any mission profile.

The Bell 429 is the only light twin-engine helicopter on the market with true two-litter capability with enough cabin space for two medical attendants and two crew members. The Bell 429 also offers exceptional flight performance with a fully integrated glass cockpit, advanced drive system and fully-coupled GPS approaches and IFR capability. Additional safety features include a collective mounted throttle, damage tolerant hub and rotor system, and energy attenuating seats. It is the first helicopter certified through the MSG-3 process, resulting in reduced maintenance costs for operators. Bell 429 customers can take advantage of the spacious cabin and extra large 60 inch side doors, as well as Instrument Flight Rules (IFR) capability certified for single or dual pilot operations to better fulfill their mission.

About Bell Helicopter: Bell Helicopter, a wholly owned subsidiary of Textron Inc., is an industry-leading producer of commercial and military, manned and unmanned vertical-lift aircraft and the pioneer of the revolutionary tiltrotor aircraft. Globally recognized for world-class customer service, innovation and superior quality, Bell's global workforce serves customers flying Bell aircraft in more than 120 countries.
Bell 429WLG