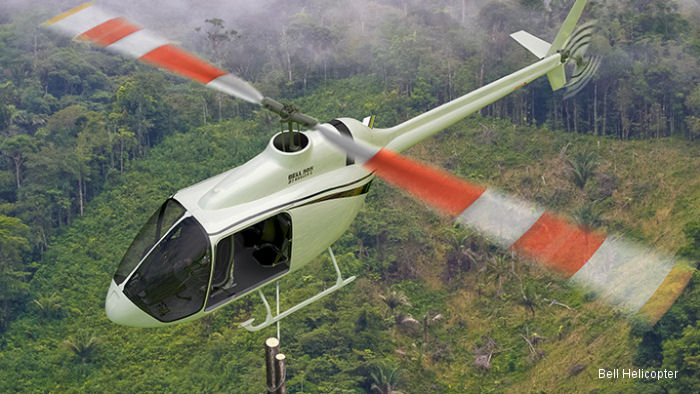 Bell Helicopter, April 15, 2014 - SHANGHAI, CHINA – Bell Helicopter, a Textron Company announced a signed purchase agreement for five Bell 505 Jet Ranger X aircraft to Aerochine Aviation during a signing ceremony at the Asian Business Aviation Convention and Exhibition (ABACE).

The Bell 505 Jet Ranger X is a five-seat, single-engine, turbine helicopter leveraging Bell Helicopter's proven technology and nearly half a century of experience defining the short, light, single (SLS) market with the original Bell JetRanger. Aerochine Aviation, a Bell Helicopter Independent Representative for eastern and southern China, Hong Kong and Macau, is purchasing the aircraft for future sales for opportunities in corporate transport, tourism or training segments.

"We have seen a strong interest in the Bell 505 in China," said Chris Jaran, Bell Helicopter's managing director for China. "Aerochine's decision to purchase this aircraft is yet another positive sign that our Chinese customers are excited for the forthcoming Jet Ranger X. This aircraft, like so many of Bell Helicopter's products, is a versatile tool that can serve multiple missions — which is an ideal solution for many customers in China who are always looking to expand their services and capabilities."

With a cruise speed of 125 knots (232 km/h), range of 360 nautical miles (667 km) and useful load of 1,500 pounds (608 kg), the Bell 505 is designed to be safe and easy to fly while remaining affordably priced. The Bell Jet Ranger's fully flat floor, increased cabin volume and clam shell doors provide the configuration flexibility needed in today's market.

"The future of helicopter sales is very positive in China," said Diana Chou, Aerochine Aviation's managing director. "Having sold numerous Bell helicopters in China over the past four years, we understand and recognize the growing demand for single engine helicopters such as the Bell 505."

The customer-driven design of the Bell 505 Jet Ranger X places safety, performance and affordability at its forefront, blending proven systems with advanced technology and a sleek, modern design. The Garmin G1000H Integrated Avionics Suite provides pilots critical flight information at a glance to maximize situational awareness. Pilot workload is further reduced by the Turbomeca Arrius 2R engine with dual channel Full Authority Digital Engine Control (FADEC). The Bell 505 features a high inertia rotor system delivering superior auto rotation capabilities. With the ideal combination of speed, range and useful load, the Jet Ranger X is designed to deliver best-in-class performance.

ABACE is Asia's premier business aviation event, and is co-hosted by the National Business Aviation Association (NBAA), the Asian Business Aviation Association (AsBAA) and the Shanghai Exhibition Center (SEC). Nearly 200 exhibitors are registered to participate in the event as well as key members of government and industry.

About Bell Helicopter: Bell Helicopter, a wholly owned subsidiary of Textron Inc., is an industry-leading producer of commercial and military, manned and unmanned vertical-lift aircraft and the pioneer of the revolutionary tiltrotor aircraft. Globally recognized for world-class customer service, innovation and superior quality, Bell's global workforce serves customers flying Bell aircraft in more than 120 countries.
505 Jet Ranger X in

Aerochine Aviation