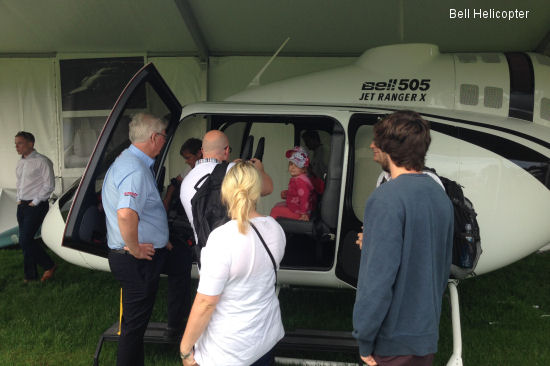 Bell Helicopter, June 26, 2014 - Fort Worth, TX – Bell Helicopter, a Textron Inc. company, is showcasing the VIP mockup of the Bell 505 Jet Ranger X during the Goodwood Festival of Speed in West Sussex, United Kingdom, from June 26 to 29. The Bell Helicopter stand is #2 in the Aviation Exhibition Area and will also feature a Bell 407.

We have a long history in Europe with the Jet Ranger family of aircraft since the first one began flying in Europe in 1967 and customers are excited to see this legacy continue," said Patrick Moulay, Bell Helicopter's managing director of Europe. The Goodwood Festival of Speed is an annual event for many of the biggest longtime aviation enthusiasts in the region and provides a wonderful opportunity to exhibit this high performance, high value aircraft."

At the event Bell Helicopter is also introducing UK-based Aerospeed Limited as the first official European customer for the Bell 505 Jet Ranger X.

"As a longtime operator of several Bell 206s, we have been eager to find a new aircraft that combines the proven capabilities of the Jet Ranger with next generation performance and reliability," said Steve Purchase, owner of UK-based Aerospeed Limited. "As soon as the Bell 505 was introduced at such an affordable price point, it was an easy decision to move quickly and become one of the first customers for the new aircraft."

"The response to the Bell 505 has been tremendous, with more than 40 signed letters of intent from European customers since we introduced the aircraft in February," said Moulay. "We are honored Aerospeed Limited chose to sign on as the first official Jet Ranger X customer in Europe.

The Bell 505 Jet Ranger X mockup is touring throughout Europe, making previous appearances at the European Business Aviation Convention and Exhibition, EBACE and the Heli UK Expo. Following Goodwood, the Jet Ranger X will make a final European stop at the Farnborough International Airshow July 14-20.

About the Bell 505 Jet Ranger X: The Bell 505 is a five-seat, single-engine, turbine helicopter leveraging Bell Helicopter's proven technology and nearly half a century of experience. Its fully flat floor, increased cabin volume and clam shell doors provide the configuration flexibility needed in today's market. The customer-driven design of the aircraft places safety, performance and affordability at its forefront, blending proven systems with advanced technology and a sleek, modern design. Pilot workload is further reduced by the Turbomeca Arrius 2R engine with dual channel Full Authority Digital Engine Control (FADEC) and through its fully integrated glass flight deck Garmin G100H. The Bell 505 features a high inertia rotor system delivering superior auto rotation capabilities. With the ideal combination of speed, range and useful load, the Jet Ranger X is designed to deliver best-in-class performance.

About the Bell 407: The Bell 407 integrates reliability, speed, performance, and maneuverability with a cabin configurable for an array of missions and payloads. Its spacious cabin seats up to five passengers in wide-open club-passenger seating and can be reconfigured to accommodate any number of tasks and payloads. The Bell 407 also provides a very quiet and smooth ride in virtually all weather conditions

About Bell Helicopter: Bell Helicopter, a wholly owned subsidiary of Textron Inc., is an industry-leading producer of commercial and military, manned and unmanned vertical-lift aircraft and the pioneer of the revolutionary tiltrotor aircraft. Globally recognized for world-class customer service, innovation and superior quality, Bell's global workforce serves customers flying Bell aircraft in more than 120 countries.
Bell 505 Jet Ranger X