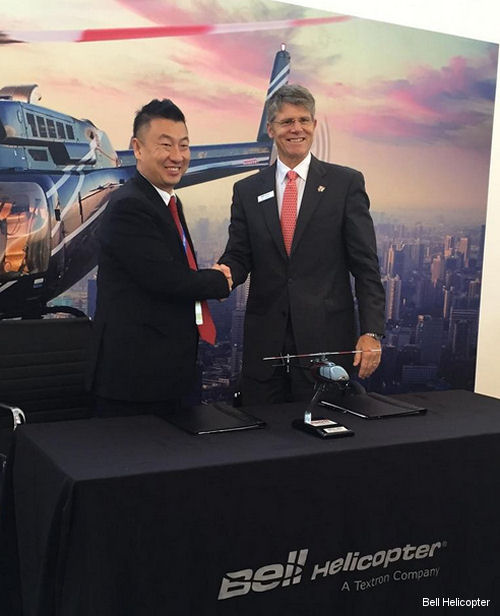 Bell Helicopter, November 12, 2014 - ZHUHAI, CHINA – Bell Helicopter, a Textron Inc. company, announced it has signed a letter of intent with Reignwood Investment, Ltd., (Reignwood) for 50 Bell 505 Jet Ranger X aircraft.

The announcement was made as part of a formal signing ceremony at the Bell Helicopter display at Airshow China in Zhuhai.

"This agreement demonstrates the interest and excitement Bell Helicopter is generating in China and strengthens the relationship between Bell Helicopter and Reignwood," said John Garrison, Bell Helicopter's president and CEO. "The Bell 505 was designed based on extensive input provided by a Customer Advisory Council placing safety, performance and affordability at the forefront of its design. It is built upon the features and capabilities of the legendary Bell JetRanger with a sleek, new design and advanced technologies."

"Bell Helicopter and Reignwood enjoy a solid and growing relationship in China," said Chris Jaran, Bell Helicopter's vice president, China. "Their knowledge of the culture and the customer base has been a tremendous resource for us. They are active advocates of our aircraft because they see the value in our multi-mission capabilities. Reignwood's fleet of Bell 206, Bell 407GX and Bell 429 helicopters are flying in many roles across China including EMS, corporate transport and pilot training."

Reignwood, a Bell Helicopter Independent Representative, will use the aircraft for travel and tourism purposes. Reignwood is a global Chinese enterprise focused on four major growth sectors including consumer products, lifestyle, industrial and finance.

"We are pleased to work with Bell Helicopter on this agreement and are confident the new Bell 505 is the ideal solution to meet our requirements," said Zheng Gang, chairman of Reignwood Aviation. "We are excited to welcome the Bell 505 to China and to the Reignwood fleet. This order increases Reignwood's commitment to 60 Bell 505's on order."

About Bell Helicopter: Bell Helicopter, a wholly owned subsidiary of Textron Inc., is an industry-leading producer of commercial and military, manned and unmanned vertical-lift aircraft and the pioneer of the revolutionary tiltrotor aircraft. Globally recognized for world-class customer service, innovation and superior quality, Bell's global workforce serves customers flying Bell aircraft in more than 120 countries.
505 Jet Ranger X in

Reignwood