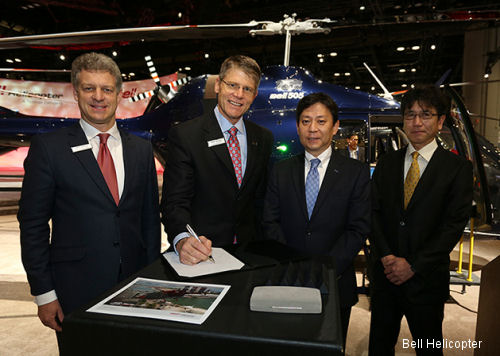 Bell Helicopter, March 06, 2015 - Orlando, FL – Bell Helicopter,a Textron Inc. company, announced today that SECO International in Japan, has entered into a letter of intent to order 10 Bell 505 Jet Ranger X helicopters.

The announcement was made as part of a formal signing ceremony at Bell Helicopter's booth during the world's largest helicopter trade show and exposition, HELI-EXPO 2015, in Orlando, FL.

"This announcement marks another key milestone for our new regional office in Tokyo and demonstrates the interest and excitement Bell Helicopter is generating in Japan. It's a huge endorsement of the latest addition to our product portfolio and our customer support service," said Richard Thornley, Bell Helicopter's managing director in Japan.

The Bell 505 Jet Ranger X was designed based on extensive input from a Customer Advisory Council placing safety, performance and affordability at the forefront of its design. It was built upon the features and capabilities of the legendary Bell JetRanger with a new, sleek design and advanced technologies.

SECO International's ten Bell 505 Jet Ranger X aircraft will be used for passenger transport, sightseeing, aerial photography, and TV broadcasting. Founded in 1983, SECO International of Nagoya operates a fleet of light helicopters. SECO also manages private owners' aircraft with full operational support at its facility at Nagoya Airport.

"We are excited to grow our business with these 10 new Bell 505 Jet Ranger X aircraft, our first Bell helicopters. We were impressed by the Bell 505's superb performance, aerodynamic design, and spacious cabin, which will enhance our service capabilities and attract more customers," stated Mr. Masahiro Minagawa, president of SECO International stated, "My decision to purchase this best-in-class aircraft was easily made after I sat in the 505 mock-up last year. With Bell's long history in Japan and its reputation for the world's best support, we are confident that our operations of the aircraft will be well supported, allowing us to take our business to the next level."

The Bell 505, which first flew November 10, 2014, is a five-seat, single-engine, turbine helicopter leveraging Bell Helicopter's proven technology and nearly half a century of experience. Its fully flat floor, increased cabin volume and clam shell doors provide the configuration flexibility needed in today's market. The customer-driven design of the aircraft places safety, performance and affordability at its forefront, blending proven systems with advanced technology and a sleek, modern design. Pilot workload is further reduced by the Turbomeca Arrius 2R engine with dual channel Full Authority Digital Engine Control (FADEC). The Bell 505 features a high inertia rotor system delivering superior auto rotation capabilities. With the ideal combination of speed, range and useful load, the Jet Ranger X is designed to deliver best-in-class performance.

Bell Helicopter's new office in Tokyo now performs the sales and marketing efforts for new aircraft in the commercial and civil government sectors in Japan. In April it will also be responsible for supporting Bell Helicopter's aftermarket support efforts including supporting its authorized Customer Service Facilities, Fuji Heavy Industries, Naka Nihon and Aero Asahi.
Bell 505 Jet Ranger X

Bell Helicopter Japan