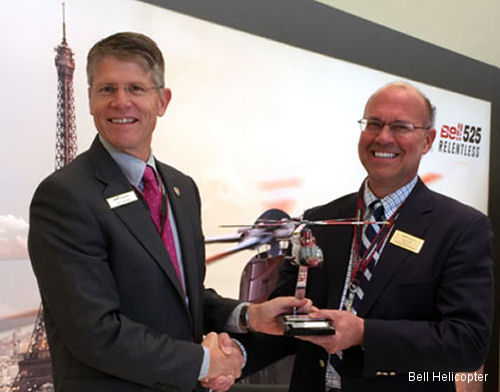 Bell Helicopter, June 29, 2015 - Fort Worth, Texas – Bell Helicopter, a Textron Inc. company, announced today a letter of intent(LOI) for two Bell 525s and an order for a 407 GXP signed during the Paris Air Show.

Africair will use the helicopters for multiple purposes including corporate VIP transport and oil and gas.

"The Bell 525 Relentless is proving to be very popular in the Middle East and Africa region with 23 letters of intent signed so far," said Steve Suttles, Bell Helicopter, vice president Middle East and Africa. "We are excited that Africair, the Independent Representative for Bell Helicopter in 33 countries in Africa, has ordered these aircraft. Africair has represented Bell Helicopter in Africa for over 35 years and has a unique understanding of Africa's operating environments. We are anticipating the first flight in a matter of weeks with deliveries planned to begin immediately following certification in early 2017."

Jim Evans, CEO of Africair, stated: "We believe that the Bell 525 Relentless' incredible performance and multi-mission capability will make it a huge success in Africa. We are also very excited about the performance upgrade on the Bell 407GXP, which takes this proven performer to an even higher level. Both helicopters are destined to be best in class performers".

The Bell 525 is the world's first fly-by-wire commercial helicopter, designed to operate safely and reliably in austere environments with decreased pilot workload. The aircraft integrates critical systems data to be easily accessible at-a-glance with the first fully-integrated touch screen flight deck designed for helicopters, the Garmin G5000H®. Best-in-class payload, cabin, cargo volumes, comfort and egress complement the technological advancements on the aircraft. The Bell 525 is being tested in Bell Helicopter's fully integrated System Integration Lab (SIL), allowing for virtual flight testing of the Bell 525 before first flight, which is scheduled in the coming weeks.

The Bell 407GXP is another example of Bell's continued investment in our current products to enhance customer value and increase mission capability. The, 407GXP is an upgrade to our best-selling platform with added value through industry leading performance, payload capability and operating economics. The Bell 407GXP has an additional 50 lbs (22.5 kg) of carrying capability, coupled with the new M250 Rolls-Royce engine that promotes performance improvement and boosts power and fuel efficiency delivering class leading hot and high performance. The aircraft is also equipped with new avionics features such as weight and balance improvements, as well as a transmission TBO extension of +500 hours.

About Bell Helicopter: Bell Helicopter, a wholly owned subsidiary of Textron Inc., is an industry-leading producer of commercial and military, manned and unmanned vertical-lift aircraft and the pioneer of the revolutionary tiltrotor aircraft. Globally recognized for world-class customer service, innovation and superior quality, Bell's global workforce serves customers flying Bell aircraft in more than 120 countries.
525 Relentless in

Africair Inc
Bell 407GXP