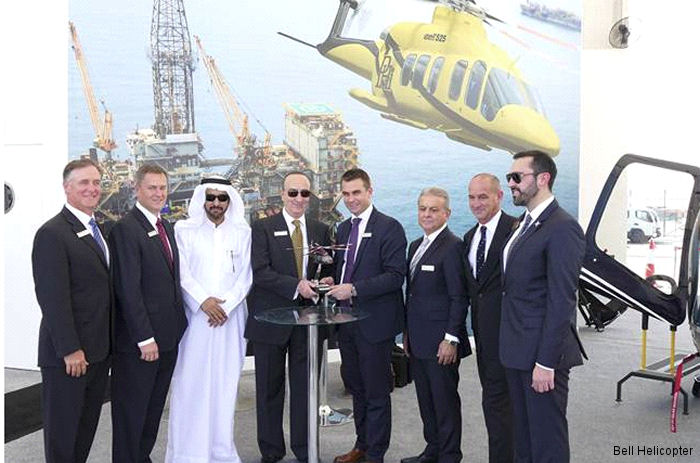 Bell Helicopter, November 08, 2015 - Dubai, United Arab Emirates – Bell Helicopter, a Textron Inc. company, announced today the signature of a letter of intent (LOI) with BGS Corporation, a Bell Helicopter independent representative, for two Bell 525s.

"The Bell 525 is unique in that it is designed to perform a diverse mission set more cost effectively than any aircraft available on the market today," said Steve Suttles, Bell Helicopter Vice President Middle East and Africa. "We have had strong sales in the Middle East for many years now, with more than 730 Bell Helicopter commercial aircraft currently operating in the region. We strongly believe that the Bell 525 is be the next big thing for the region and that sales will continue to ramp up."

"The Bell 525 addresses a gap in the market, "said Philip Bardawil, President & CEO, BGS Corporation. "With the successful first flight now completed, we are very confident in the Bell 525 and look forward to its certification and entry into service. We are very confident this exceptional aircraft will be a great success in the Middle East."

The Bell 525 is the world's first fly-by-wire commercial helicopter, designed to operate safely and reliably in austere environments with decreased pilot workload. The aircraft integrates critical systems data to be easily accessible at-a-glance with the first fully-integrated touch screen flight deck designed for helicopters, the Garmin G5000H®. Best-in-class payload, cabin, cargo volumes, comfort and egress complement the technological advancements on the aircraft. First flight was achieved on July 1, 2015 and certification of the aircraft is expected in 2017.

Bell Helicopter has the largest support network in the industry with over one hundred authorized customer service facilities in thirty four countries. Ranked number one by customers for 21 consecutive years, Bell Helicopter has earned top honors in Vertical Magazine's first-ever comprehensive helicopter manufacturer's survey. Bell Helicopter is committed to having resources where customers operate to speed up delivery of service and support, and give customers access to service professionals are easy to reach, know the operating environment and understand their needs.

About Bell Helicopter Bell Helicopter, a wholly owned subsidiary of Textron Inc., is an industry-leading producer of commercial and military, manned and unmanned vertical-lift aircraft and the pioneer of the revolutionary tiltrotor aircraft. Globally recognized for world-class customer service, innovation and superior quality, Bell's global workforce serves customers flying Bell aircraft in more than 120 countries.
Bell 525 Relentless

Bell Helicopter UAE