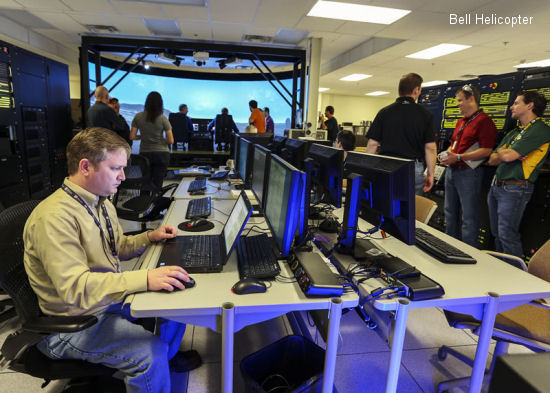 Bell Helicopter, October 25, 2013 - Since its launch in early 2012, pilots and operators from around the globe have expressed their enthusiasm and anticipation for the Bell 525 Relentless — they want one now!.

Those who have experienced the 525's capabilities with the help of an advanced cockpit simulator have been impressed with its ARC Horizon flight deck, exceptionally comfortable and ergonomically-designed crew cabin and enhanced safety components, but there has been a common concern — will it be ready for first flight in 2014 and ready for our customers quickly thereafter?

We respond to that question with a confident and resounding yes.

The Bell 525 is on track for delivery to the marketplace; we have reached significant milestones over the past 20 months, demonstrating our continued commitment to meeting our target delivery dates. One of the integral tools we have developed to help us in reaching our goal of first flight next year is the RASIL (Relentless Advanced Systems Integration Laboratory.) The RASIL is a next-generation lab with a high level of automation, enabling superior testing and learning with better control and functionality than ever before. Its number one function is ensuring Bell 525 Relentless systems deliver exactly what our customers demand.

The RASIL's latest feat is achieving first flight of "Aircraft Zero" — a simulator used to test and validate the Bell 525's technology differentiators. Aircraft Zero is no ordinary cockpit simulator — it is an unprecedented investment designed to identify issues up front rather than during flight testing, saving invaluable time. In addition to revealing potential problems, its hardware-in-the-loop simulation capability showcases the technology that pilots have been anxiously waiting to see in action. Aircraft Zero enables pilots to operate fully-integrated Bell 525 systems, including flight controls, software, hydraulics, actuators, electrical and avionics in advance of flying the first Bell 525 prototype helicopter.

Aircraft Zero testing will continue through certification of the Bell 525 and the RASIL will be used to make continuous improvements to the platform, as well as evaluate changes prior to implementation.

With the help of a dedicated team of experts at Bell Helicopter, ongoing engagement with our Customer Advisory Panel and the RASIL's next-generation technology, the Bell 525 Relentless will not only be ready for first flight next year, but will deliver the best-in-class capabilities our customers have been waiting for.
Bell 525 Relentless