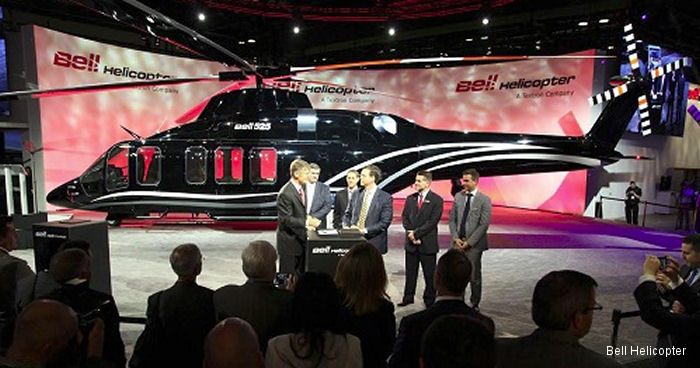 Bell Helicopter, March 03, 2015 - Orlando, FL (March 3, 2014) – Bell Helicopter, a Textron Inc. company, announced today Waypoint Leasing (Ireland) Limited has signed a letter of intent (LOI) to acquire 20 Bell 525 Relentless helicopters with options for additional aircraft.

Waypoint plans to provide the Bell 525 Relentless to operators servicing a wide range of missions, including oil and gas, emergency medical service, search and rescue, firefighting and governmental support.

Waypoint's existing fleet of more than 90 aircraft includes Bell 407s and Bell 412s, Bell Helicopter's medium-lift utility helicopters.

Waypoint's Chief Executive Officer Ed Washecka and Bell Helicopter's President and CEO, John Garrison, participated in a formal ceremony at Heli-Expo (HAI) in Orlando, Florida to commemorate the agreement.

"We are pleased to sign this agreement with Bell Helicopter, which will provide us with cutting-edge and versatile aircraft that we believe offer an attractive value proposition for operators worldwide," said Washecka. "The Bell 525 incorporates a number of technological advancements that enhance safety, improve performance and reduce costs. We are excited to build on our existing relationship with Bell and look forward to bringing the Bell 525 Relentless to the market."

"The Bell 525 is a customer-driven design that will enable operators to perform a diverse mission set with the payload and range they need, and to do so more cost effectively than aircraft available on the market today," said President and CEO of Bell Helicopter, John Garrison. "Demand for this aircraft is intensifying all over the world, and we are thrilled a global company like Waypoint has placed their trust in this highly capable aircraft."

The Bell 525 is the world's first fly-by-wire commercial helicopter, designed to operate safely and reliably in austere environments with decreased pilot workload. The aircraft integrates critical systems data to be easily accessible at-a-glance with the first fully-integrated touch screen flight deck designed for helicopters, the Garmin G5000H®. Best-in-class payload, cabin, cargo volumes, comfort and egress complement the technological advancements on the aircraft. The Bell 525 is being tested in Bell Helicopter's fully integrated System Integration Lab (SIL), allowing for virtual flight testing of the Bell 525 before first flight, which is scheduled for spring 2015.

"This landmark agreement is one of the largest commercial helicopter orders in Bell Helicopter's 80 year history, and demonstrates that the marketplace recognizes the capabilities and unmatched value of the Bell 525 Relentless," added Garrison.

About Waypoint Leasing (Ireland) Limited: Waypoint Leasing is a global helicopter leasing company that provides operating lease and financing solutions to helicopter operators worldwide. Headquartered in Limerick, Ireland, and with operations in Darien, CT, Waypoint Leasing differentiates itself with a senior management team that has direct helicopter operating and leasing experience in key helicopter markets around the world, having leased helicopters across Africa, Asia, Australia, Europe and North and South America. Waypoint Leasing serves a wide range of sectors including oil and gas, emergency medical service, search and rescue, firefighting and governmental support.
525 Relentless in

Waypoint Leasing