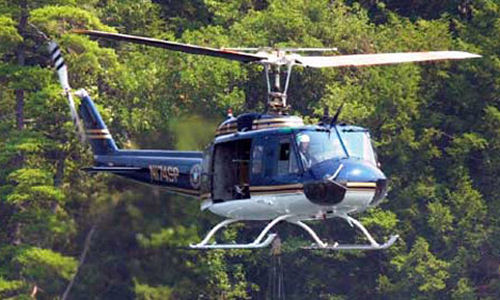 Bell Helicopter, December 21, 2004 - FORT WORTH, TX - The Bell 210 helicopter made it's first flight Saturday, Dec. 18, 2004, at the Bell subsidiary Edwards & Associates, located in Bristol, Tenn.

This successful flight marks the first in a series of qualification flights as the Bell 210 goes thru FAA certification testing. Bell expects to attain FAA certification 1st Quarter 2005, with deliveries following soon after.

The Bell 210 is a civil certified version of the U.S. Army UH-1H. Starting with a refurbished UH-1H fuselage, Bell Helicopter adds dynamic components from the Bell 212 (main rotor hub and blades, tail rotor, main and tail rotor support structure, transmission, rotating controls, and tail boom), and an FAA certified Honeywell T-53-517B engine providing a zero-time FAA certified single engine medium utility helicopter.

"The Bell 210 is also the perfect solution for the many agencies that use the UH-1H in utility, Homeland Security, law enforcement or firefighting capacities," declared Bell CEO Mike Redenbaugh.

"It combines great performance with an existing logistical base, an unbeatable DOC (Direct Operating Costs) and a tremendously low initial acquisition cost. Add to that complete FAA certification and the Bell 210 is truly the best total value proposition to be found in the market today," Mr. Redenbaugh explained.

The Bell 210 helicopter will satisfy the U.S. Army's requirement for a Light Utility Helicopter (LUH) in the TDA units as well as the Army National Guard. There are many missions now supported by the US Army with assets that are marked for reduction in the coming years that the Bell 210 could more economically perform. These Army Light Utility Helicopters will perform future utility missions for non-combat organizations (TDA), National Guard utility, drug interdiction efforts (RAID), MEDEVAC, and Homeland Defense (HLD) missions.

The Bell 210 is a commercial-off-the-shelf (COTS), FAA certified, zero timed helicopter that will operate for around $550 per hour. The Bell 210 will allow the Army to unburden itself of logistics and engineering overhead management and avail itself of the Bell worldwide, world-class commercial support in spares, manuals, and technical support very similar to the TH-67 program at Ft. Rucker, Ala. All this with a warranty and 40% reduction in operating costs. Cost of the Bell 210 will be approximately $3 million. A comparable Huey-sized off the shelf commercial aircraft would cost approximately $5 million.

The Bell 210 will have a useful load that is 640 lbs higher than the UH-1H, 400 shaft horsepower increased horsepower available, and the direct operating costs will be considerably less than other aircraft in the same class.

About Bell Helicopter: Bell Helicopter Textron, a subsidiary of Textron Inc., is a $2.2 billion, leading producer of commercial and military helicopters, and the pioneer of the revolutionary tiltrotor aircraft. Globally recognized for customer service, innovation and superior quality, Bell's global workforce of 8,000 employees serves customers flying Bell aircraft in over 120 countries.
Bell 210

Edwards & Associates, Inc
State of Tennessee