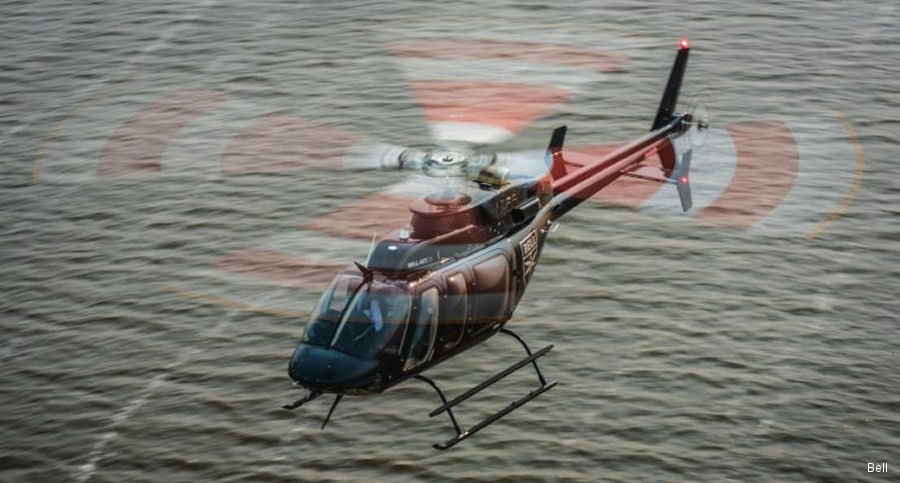 Bell, February 13, 2019 - The Bell 407GXi light single helicopter has received type certification from the Civil Aviation Administration of China (CAAC).

Outfitted with Garmin G1000H NXi integrated flight deck and dual-channel FADEC Rolls Royce M250-C47E/4 turboshaft engine, the Bell 407GXi is the latest improvement to the popular 407 series helicopters.

"We are pleased that Bell has received the Chinese validation of the Bell 407GXi type certificate which will enable us to begin delivering our most advanced Bell 407 model to Chinese customers," said Jacinto Monge, managing director of Bell North Asia. "The validated type certificate will pave the way for deliveries of the 407GXi to customers in China right after the lunar new year, and showcases the excellent working relationship between FAA, CAAC, and US aircraft manufacturers such as Bell."

The brand-new Garmin G1000H NXi integrated flight deck on the 407GXi integrates high-definition displays and faster processors offers increased brightness and clarity, faster start-up and map rendering speed. Additional options for the 407GXi include the Garmin FlightStream 510 that allows pilots to upload flight plans from smart devices.

The new Rolls-Royce M250-C47E/4 dual-channel FADEC with full automatic relight turbine engine improves fuel efficiency and high/hot performance. The new engine has 8 percent more power while reducing fuel consumption by 2 percent in high/hot environments compared with the legacy engine.

Newly designed executive configuration options bring a modernized look and passenger experience to the five-seat club cabin. With a 1.55-meter door, stretchers can easily enter the cabin so the 407GXi can perform air ambulance missions. In 2017, Shaanxi Helicopter ordered 100 Bell 407s and the company is determined to build an air medical rescue and law enforcement network in China.

The Bell 407GXi debuted at Heli Expo in the United States in February 2018, the helicopter was certificated by the FAA and the first delivery was made to a Chilean customer in October of the same year.

Currently, there are more than 1,400 Bell 407 series helicopters in operation worldwide.

The GXi also is in the running to replace the U.S. Navy's TH-57 Sea Ranger training helicopters, which are based on the Bell 206, a precursor to the 407.
Bell 407GXi
407 in

Bell Helicopter Canada

China