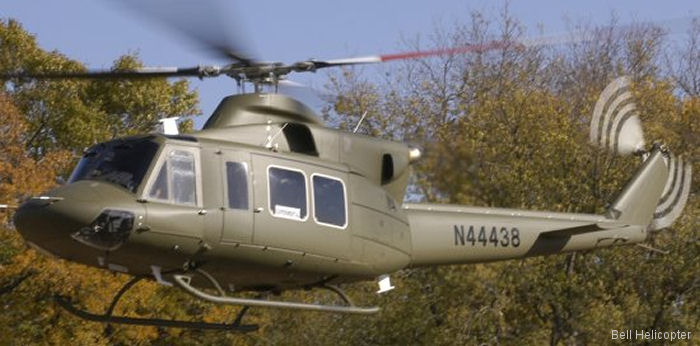 Bell Helicopter, December 08, 2005 - FORT WORTH, TX - Bell Helicopter, a Textron Inc. company, reported today that their reliable 412 medium twin-engine helicopter recently surpassed the 3.1 million flight hour milestone.

The Bell 412 was recently offered to fulfill the US Army's requirement for a new Light Utility Helicopter, or LUH.

"This is a tremendous accomplishment for the Bell 412 and our base of customers who are successfully operating the 412 in more than 40 countries around the world," said Bob Fitzpatrick, senior vice president of Marketing and Sales for Bell Helicopter. "This record of 3.1 million flight hours flown with proven reliability, maintainability and performance is exactly why we proposed the 412 to be the Army's next LUH."

Bell Helicopter has a six-decade history of providing the US Military with reliable, high value-to-cost aircraft. From the venerable UH-1 to the currently serving, combat proven UH-1N, AH-1W and the OH-58D Kiowa Warrior, Bell Helicopter continues to enable America's military to successfully perform their critical missions all over the world.

"Like America's soldiers, the Bell 412 gets up and goes to work every single day, all over the world," said Mike Miller, Executive Director of Army and Air Force Business Development for Bell Helicopter "And also like our soldiers, the Bell 412 is a proven performer."

The Army's new LUH will support a variety of missions such as personnel and equipment transport, force protection and security, MEDEVAC, disaster relief, homeland security and counter-drug operations to name just a few. "The Bell 412 is performing LUH type missions today with tremendous success," Miller said. "Nearly 30 countries currently employ the 412, as well as Bell's award winning logistics support network, to successfully accomplish the same military missions the Army LUH will perform."

The Canadian Forces currently operate 83 Bell 412 aircraft with a mission reliability rate of 95.7%. The British Army currently operates 15 Bell 412EPs with a mission reliability rate of 98.2%. And the Royal Norwegian Air Force operates 18 412SPs and recently boasted that the RNoAF's 412SP helicopter fleet has not experienced any failures that resulted in a mission cancellation.

"We are extremely proud of the reliability, availability and maintainability record of our Bell 412," Miller said. "So when we say that the 412 LUH is ready and able to fulfill the Army's LUH role, we can cite 3.1 million flight hours and the superb availability record of our 740-strong world-wide commercial and military 412 customer fleet."

The FAA-certified Bell 412EP meets all the requirements listed in the Army's request for proposal. And in many cases, Bell's LUH exceeds the requirements including endurance, airspeed, range, lift requirements, growth capacity, mission reliability, operational availability and more.

"In the Bell LUH, we are offering the Army a reliable, proven helicopter, as well as Bell's award winning product support, customer service and training." Miller said. "For eleven years our customer support and logistics networks have been named the best in the industry...there is no learning curve for us...we know how to support our customers through the life of their aircraft."

Bell has partnered with a world-class team of suppliers including Pratt and Whitney, Honeywell, Chelton/Wulfsberg Electronics, Goodrich, Intellegent Automation Corporation, East/West Industries, Inc., Simula, and FreeFlight. "We have a proven relationship with our suppliers that spans years," Miller explained. "This is not a team we threw together for the sake of this LUH offering. Our partnership with our partner suppliers is proven."

"With a 412 fleet 740 helicopter strong, 3.1 million flight hours, and a customer support network rated #1 for 11 years, Bell Helicopter is ready to provide our Army with their next LUH," said Fitzpatrick.
Bell 412LUH