Helicopters, Inc. Gets First Bell 505 for News Service


Helicopters Inc ordered the first 2 Bell 505 configured for electronic news gathering (ENG)
Heli-Expo 2018

Bell, March 01, 2018 - Helicopters Inc. signed purchase agreement for two Bell 505 Jet Ranger X.

The aircraft will be configured for utility operations and are the first Bell 505s used for electronic news gathering (ENG).

"The Bell 505 offers superior handling qualities and payload performance, making it the ideal aircraft for utility missions." said Anthony Moreland, managing director, North America

Located in Cahokia, Illinois, Helicopters Inc. is the largest provider of ENG helicopters with approximately 70 aircraft currently in operation in over 35 cities.

"Helicopters Incorporated is very excited about taking delivery of its first Bell 505 in May. During our evaluation, we experienced first-hand the performance characteristics that we feel will make this a great news gathering helicopter. Our pilots especially loved the new design of the cockpit. The visibility is the best of any Bell product to date providing the pilot with an added measure of safety," said Parker Condie, president and CEO of Helicopters, Incorporated.

The Bell 505 Jet Ranger X is Bell Helicopter's new five-seat aircraft designed for efficiency and reliability through the use of advanced avionics technology. It incorporates proven dynamic components, advanced aerodynamic design, a dual channel FADEC Turbomeca Arrius 2R engine and best-in-class value.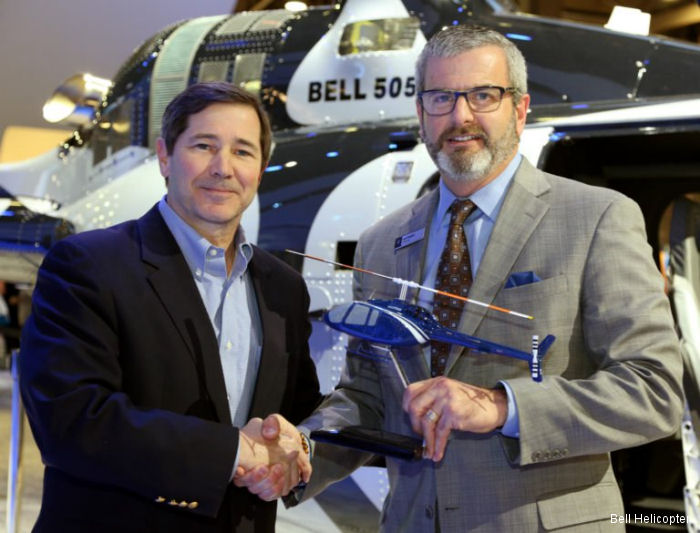 This article is listed in :
Bell 505 Jet Ranger X in

Helicopters Inc