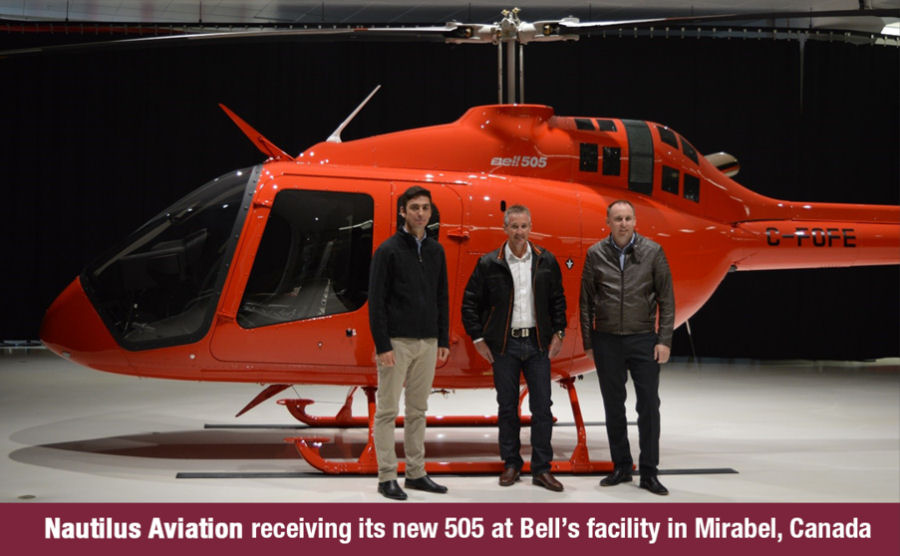 Bell Helicopter, February 06, 2018 - Sydney, Australia - Bell Helicopter, a Textron Inc. company, announced today the delivery of two Bell 505 Jet Ranger X helicopters to Nautilus Aviation.

These are the first Bell 505 Jet Ranger X helicopters delivered into the Asia Pacific region, where Bell expects to see the highest demand globally for the new 505s.

"The Australian helicopter market is one of the largest and most important segments globally for Bell. We are pleased that the first 505s delivered into the region are with Nautilus Aviation, and are confident that both helicopters will deliver exceptional value to Nautilus in its endeavor to provide customers an unparalleled experience," said Sameer A. Rehman, managing director of Bell Helicopter Asia Pacific. "We look forward to working closely with Nautilus to bring these aircraft into service and supporting Nautilus' preparation of the aircraft for charter and utility operations."

Nautilus Aviation first accepted delivery of both 505 Jet Ranger X helicopters at Bell's Mirabel, Canada, facility in October 2017. The aircraft were then shipped to Australia and will be used for tourism charter and utility flights in the North Queensland and the Great Barrier Reef region.

"At Nautilus, safety and excellence are paramount to us and in both regards, the Bell 505 has performed beyond our expectations throughout the test flights we took. I am confident that the new 505, with its advanced safety and avionics technology, will help us deliver a unique and safe experience for all our customers," said Aaron Finn, CEO of Nautilus Aviation.

The reliability, speed, performance, and maneuverability of the Bell 505 is integrated with a flat floor, open cabin that is configurable for a wide variety of missions and payloads. The spacious cabin can be configured to carry up to four passengers or configured for internal cargo missions by removing quick disconnect rear cabin seats and/or copilot seat.

The Bell 505's flat floor cabin design and large rectangular baggage compartment lets the Bell 505 adapt to your changing mission needs. These features combined with a proven and reliable drivetrain and rotor system make the Bell 505 a true multi-mission aircraft in the short light single-engine market.

About Bell Helicopter: Bell Helicopter, a wholly owned subsidiary of Textron Inc. (NYSE: TXT), is an industry-leading producer of commercial and military, manned and unmanned vertical-lift aircraft and the pioneer of the revolutionary tiltrotor aircraft. Globally recognized for world-class customer service, innovation and superior quality, Bell's global workforce serves customers flying Bell aircraft in more than 120 countries.
505 Jet Ranger X in

Nautilus Aviation
Bell Helicopter Singapore