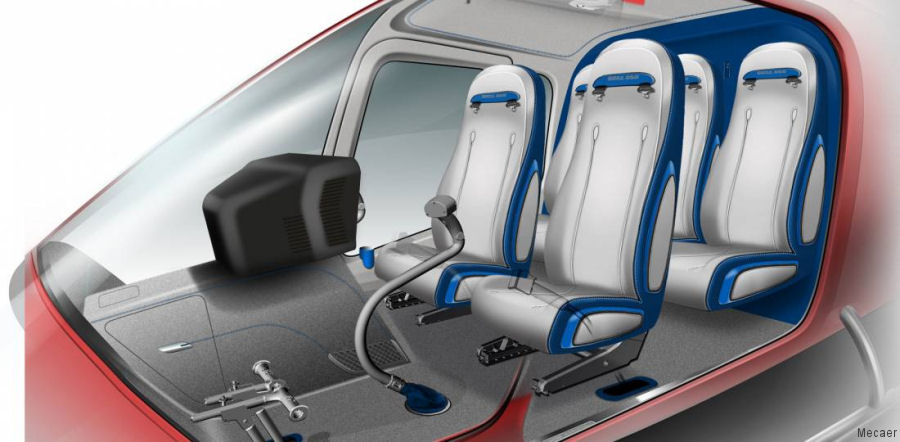 Mecaer Aviation Group, September 14, 2018 - Mecaer Aviation Group, Inc. (MAG) announced multiple validations for the VIP MAGnificent interior in the Bell 505.

The VIP interior for the Bell 505, branded as the MAGnificent, received its Supplemental Type Certificate (STC) validation with EASA, FAA and ANAC authorities this past week.

The STC is an optional upgrade to the existing Bell 505 standard interior and follows the MAGnificent appearance. MAG Design Studio has maintained the MAGnificent family feel and appearance for the Bell 429, Bell 525 and now the Bell 505.

The interior can be installed in new or used aircraft.

The VIP interior includes modified crew and passenger seats, new interior panels for the door, overhead and aft bulkhead, carpet, storage and an overhead Passenger Service Unit (PSU). The PSU encompasses outlets for the air-conditioning / air gaspers and reading lights.

Additional storage is also provided with the option for a central cabinet. If selected, the central cabinet is interchangeable with the aft center passenger seat.

MAG intends to complete the installations at their FAA Part 145 in Philadelphia. The kits will be produced at MAG's Cabin Comfort Systems headquarters in Monteprandone, Italy and the company says the lead times are about 5-months.

"The MAGnificent for the Bell 505 will be a real game changer not only for Mecaer, but for the industry." said Armando Sassoli, Co-General Manager of Mecaer Aviation Group. "The 505 excels on so many levels and now with an option for a high-end interior the potential is endless. The demand for our interior has been remarkable."

About Mecaer Aviation Group: With facilities across Italy, Canada and the United States, MAG offers integrated systems including flight controls, landing gear and actuation systems, as well as cabin comfort systems for helicopters, business aircraft, general aviation and basic trainers. Capabilities include design, development, manufacture, certification, and noise and vibration abatement, together with completion, modification, and MRO services.
505 Jet Ranger X in

Mecaer