Mecaer VIP Bell 505 at Heli-Expo 2019


VIP interior design specialist Mecaer Aviation Group (MAG) delivered the first Bell 505 Jet Ranger X in North America outfitted with Mecaer's MAGnificent interior to Canada's Helite Aviation during Heli-Expo 2019
Heli-Expo 2019

Mecaer Aviation Group, March 05, 2019 - VIP rotorcraft interior specialist Mecaer Aviation Group (MAG, Booth C2629) delivered the first Bell 505 Jet Ranger X in North America outfitted with Mecaer's MAGnificent interior to Canada's Helite Aviation in a Tuesday ceremony at Heli-Expo 2019.

Helite will use the Bell 505 for VIP transport from its downtown Montreal heliport and anticipates strong demand for the stylish five-place light single.

The MAGnificent interior includes all interior panels; seats (built up from standard frames) and leather upholstery; low-pile carpeting; and a rear passenger service unit with adjustable reading and mood lights, gaspers, and air conditioning outlets. It's available in color palettes of soft whites, creams, blues, or grays.

The 505 replaces the discontinued 206 Jet Ranger in the Bell (Booth C4007) product line. Powered by a Turbomeca Arrius 2R and made in Mirabel, Quebec, Canada, the 505 has a 1,500-pound useful load, top cruise speed of more than 125 knots, and a Garmin G1000H flight deck. Price is about $1.07 million.

Helite's blue Bell 505 will be on display at MAG's booth throughout Heli-Expo and marks the first time the Italian company has shown an entire helicopter at a trade show. The aircraft is available for demonstrations following the show and for the remainder of the year by arrangement through MAG.

Small details add to the interior comfort and style: cup holders, coat hooks, smart device holders, and leather-wrapped flight control boots. Customized logos can be embroidered onto headrests and engraved into door thresholds. An optional, removable center cabinet with small infotainment system can replace the middle of the three rear, forward facing seats.

The installation kits are "100 percent produced in Italy at the Cabin Comfort Systems headquarters" in Monteprandone, Italy, said Maximo Pugnali, MAG president. Installations are performed at the company's U.S. facility at Pennsylvania's Northeast Philadelphia Airport (PNE).

The MAGnificent interior borrows elements from the MAG VIP interiors created for the Bell 429 GlobalRanger light twin and forthcoming 525 Relentless, but "doing a smaller helicopter was a challenge," said Pugnali. More sporty than plush, the installation brings panache to what is often an owner-flown platform, and weighing under 70 pounds, the option "will be a no-brainer" for VIP buyers, Pugnali said.

Of the more than 100 Bell 505 Jet Ranger Xs ordered thus far, 20 to 30 percent are opting for the MAGnificent interior, said Grayson Barrows, MAG's director of marketing and sales.

The MAGnificent upgrade costs from about $100,000 to $120,000, and can be installed as a retrofit in legacy 505 Jet Rangers. MAG will perform some at PNE, but kits can be shipped to any Part 145 facility that has the Bell 505 on its capabilities list for installation.

Also being shown at Heli-Expo, along with images of the MAG VIP interior for the Relentless, are new renderings of its VIP cabins for Leonardo's AW139 and Airbus Helicopters' H145. MAG is also displaying torque pedals, flight control systems, control surfaces and other rotorcraft components it manufactures for OEMs.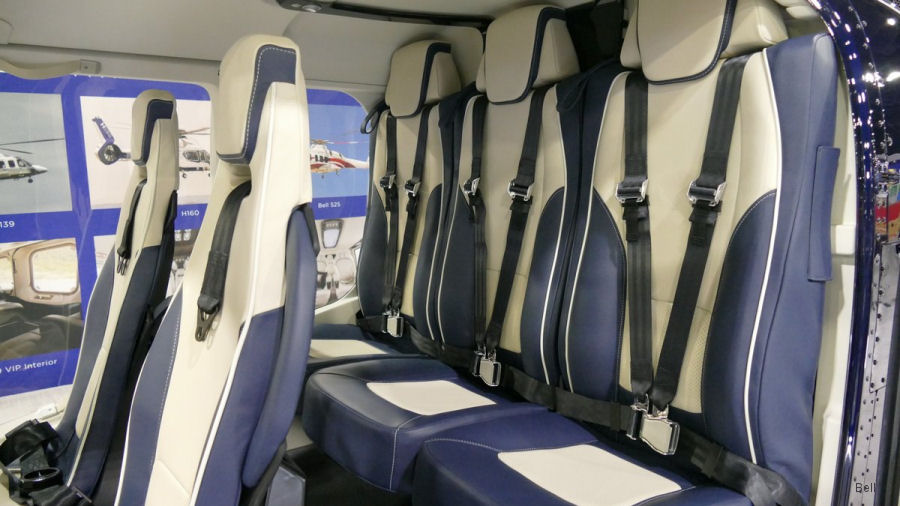 This article is listed in :
Bell 505 Jet Ranger X in

Mecaer

Helite Aviation
--Helicopters Interiors
See also
Helite Signs for First Mecaer VIP Bell 505