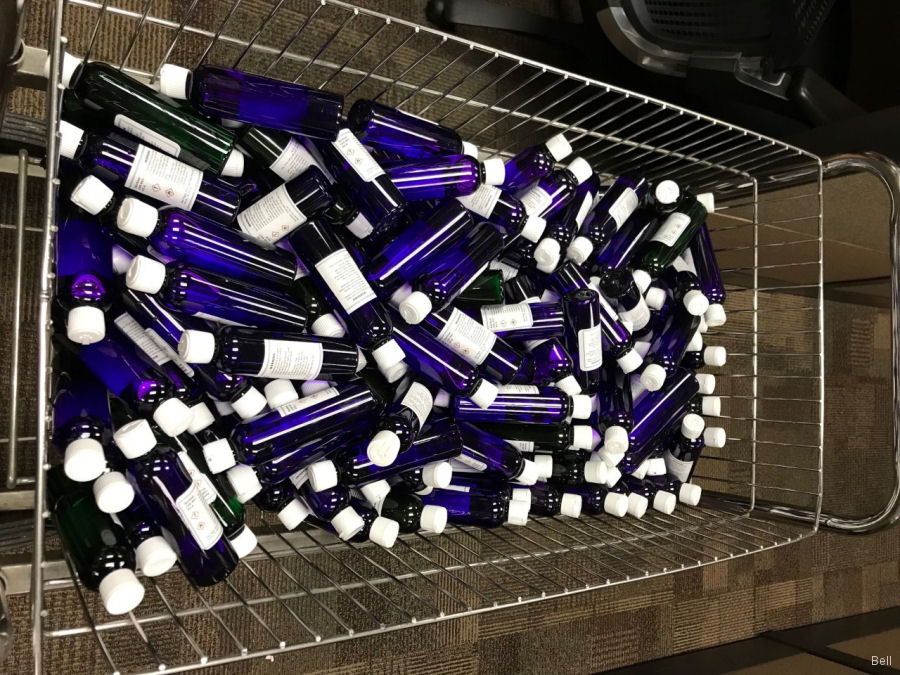 Bell, April 05, 2020 - As many manufacturers start finding new health safety solutions or aiding employees using resources on hand, Bell is no exception.

When the nation began experiencing a shortage of hand sanitizer, our Bell Engineering Labs team decided to take matters into their own hands. Working with our Environmental Health and Safety (EHS) team, they were able to follow the World Heath Organization's formula and produce hand sanitizer using compounds in the lab while the EHS team procured materials and organized distribution.

So far, our Engineering Labs and EHS teams have produced 90 liters of gel and 433 bottles. At the beginning of this week, these bottles have been distributed to more than nine different manufacturing workstations throughout Bell's North Texas facilities.

This cross-functional team has goals – and more than enough resources – to keep production going to ensure our employees in our manufacturing facilities are receiving the sanitizing tools they need.

Why do they do it? For them, it's all about keeping our employees safe. While we're continuing to support warfighters, law enforcement and medical emergency services, our Labs and EHS team wants to keep our employees supplied with everything needed to protect themselves.

Innovation is the most effective whenever it seeks to solve a problem. This innovative initiative from our team of hand sanitizer heroes not only provides a solution, it shows that creativity and kindness can be an uplifting light, even in the most chaotic of times. Thank you to all the employees at Bell who are doing their part to stay safe and support our customers.

List of Coronavirus outbreak


Bell Helicopter
Airbus Producing Protective Medical Equipment