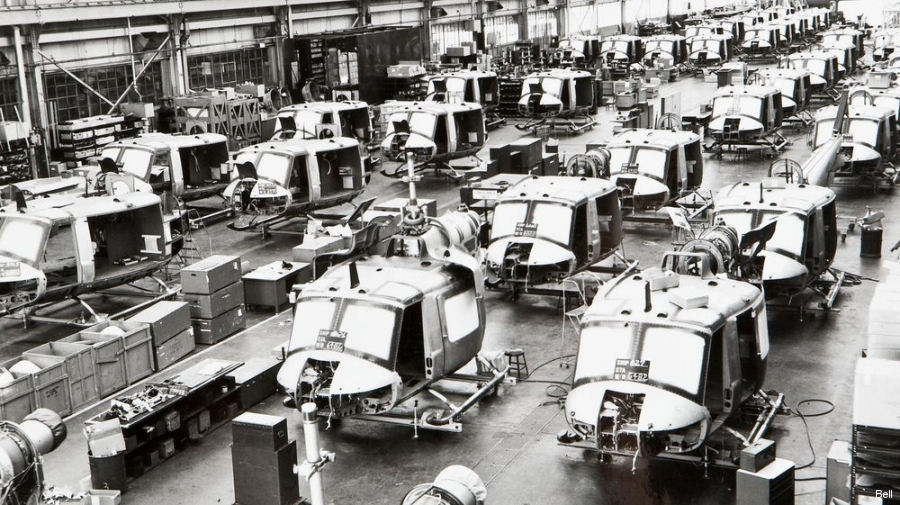 Bell, April 03, 2020 - The beginning of an aircraft program marks a new age and a new impact on the world. Moments like a helicopter taking its first flight, the completion of a new mission or receiving certification are what drive our teams forward.

Under the excitement and energy that those innovation moments evoke comes another layer to Bell's powerful legacy – how we get things done.

Setting an aircraft program up for success means enabling our manufacturing arm to efficiently and safely produce aircraft while our other teams are moving forward with flight testing. Both parts of the equation are needed, but our operations-centric side is less publicly transparent – until now.

During Bell's peak production period during the Vietnam War, our teams were producing 150 Hueys per month in addition to 50 other helicopters.

Now, as Bell prepares to support the U.S. Army's Future Vertical Lift program by offering platforms for the Future Long Range Assault Aircraft (FLRAA) and the Future Attack Reconnaissance Aircraft (FARA) and pave the way for urban air mobility aircraft, rapid production is needed more than ever.

To set the wheels in motion, we've already built an unmatched team of engineers, supply chain personnel and project leaders. They've established a rapid supply base to prepare for aggressive schedules and acquired the latest additive manufacturing machines to facilitate build methodology. To match its unprecedented nature, the team, led by longtime Bell employee Glenn Isbell, has even received a novel title: Rapid Prototyping and Manufacturing Innovation.

But complete team alignment comes down to two distinct missions. The first is a Rapid Prototyping organization that will focus on accelerating the build of experimental components and aircraft. This will range from component technologies to concept demonstrators to initial prototypes.

The second mission is to reduce our non-recurring costs and enabling production at higher volumes. This will be achieved by advancing our Manufacturing Readiness Levels in new technologies and helping to focus our designs of the next generation of products to achieve new levels of capability at cost points that are drastically reduced from current industry benchmarks.

The team has already tackled new projects such as the APT experimental aircraft build, aircraft mockup designs and risk reduction part planning for future vertical lift and innovation aircraft. The next step is to open the Manufacturing Technology Center later this year where the manufacturing processes for the next generation aircraft will be defined and transitioned to the future production factories.

While our manufacturing continues to evolve with the help of our ingenious engineers, the purpose remains the same – to create novel coveted vertical lift products that support the world. Explore our Innovation to see what other great challenges Bell is taking on.

Bell Helicopter

Bell Air Taxi
Bell Helicopter
Bell V-280 Valor
Bell 360 Invictus