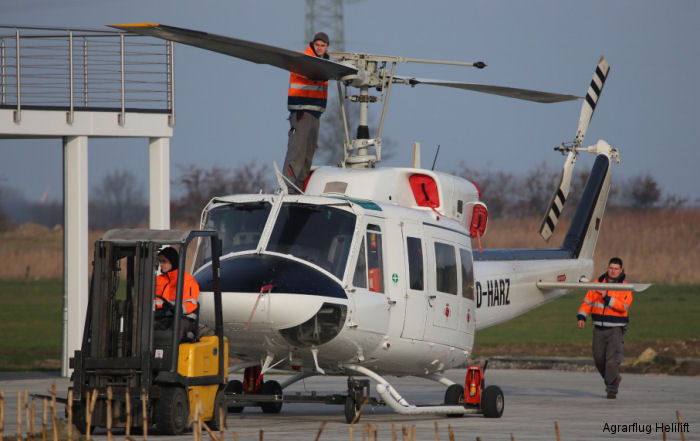 Bell Helicopter, October 12, 2016 - Helitech, Amsterdam – Bell Helicopter, a Textron Inc. company, and its Authorized Customer Service Facility (CSF), Agrarflug Helilift, announce today that Agrarflug Helilift is in the process of obtaining an expanded capability to support medium tailbooms for the Bell 212 and 412 aircraft– continuing to strengthen aircraft support for European customers.

As a Bell Helicopter Authorized CSF, Agrarflug Helilift provides field maintenance services for the Bell Helicopter 204, 205, 206A/B, 206L, 212 and 412 model aircrafts. The company additionally offers services including state-of-the art customization and aircraft refurbishment and accessory options, combined with personalized service offerings.

"The addition of medium tail boom support will offer Bell Helicopter customers an enhanced maintenance service from a centralized location within Europe. Customers will experience improved turnover times, competitive prices, increased customer support solutions and an overall positive development within the European market," said Agrarflug Helilift CEO, Dennis Beese. "We look forward to continuing to work closely with Bell Helicopter and supporting our customers. It is our primary focus to ensure that customers' aircraft stays airworthy throughout its service life."

With 40 years of experience in the industry, Agrarflug Helilift is an established operator with more than 40 helicopters in its fleet and offers charter services, aircraft maintenance and training for pilots and maintenance personnel.

"We continue to build a robust aftermarket support plan to ensure our customers have the regional support needed to continue their operations," said Glenn Isbell, executive vice president of Customer Support & Services for Bell Helicopter. "This new capability will offer a needed solution for our European customers and we have the utmost confidence in Agrarflug."

Bell Helicopter's Authorized Customer Service Facilities enhances customer satisfaction by providing a direct, personal link between Bell Helicopter and its customers. With services ranging from state-of-the-art customization, aircraft refurbishment and accessory options to maintenance, repair and overhaul solutions, combined with personalized service offerings, Bell Helicopter provides complete and seamless support - offering its customers the advantages of a one-stop service experience worldwide.

"We understand the importance of maintaining the readiness of our customers' aircraft. As we continue to grow, we will listen to our customers and ensure their aircraft are mission ready anywhere on the globe," said Neil Jones, manager of Bell Helicopter's Customer Service Facility Network.

Known for its industry-leading customer support, Bell Helicopter provides its customers with local support in every corner of the world and has the largest support network in the industry with more than 100 Authorized Customer Service Facilities in 34 countries. Bell Helicopter continues to grow its European footprint and support its customers in more than 50 countries in Europe, Russia, the Middle East and Africa from its Bell Helicopter facility in Prague and its Amsterdam Supply Center. The company also serves its regional customers at Rotor Blades, Ltd., in Warminster, England, a blade repair center, and has 13 Bell Helicopter Authorized Customer Service Facilities located in Europe and Russia to perform maintenance, repair and overhaul on Bell Helicopter aircraft.
412 in

Agrarflug Helilift GmbH
212 in

Agrarflug Helilift GmbH