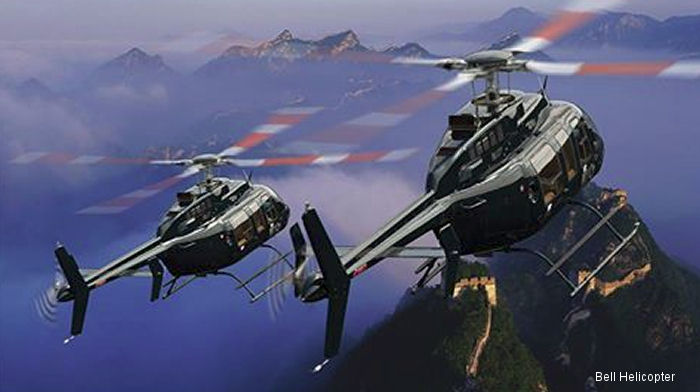 Bell Helicopter, March 02, 2015 - Fort Worth, TX – Bell Helicopter a Textron Inc. company, announced the sale of 15 Bell 407GXs to the Mexican Air Force (FAM) with deliveries to begin this year. The aircraft will be configured for a variety of parapublic missions.

"We are extremely pleased to provide the Mexican Air Force with such a high performing and reliable aircraft," said Jay Ortiz, Bell Helicopter's vice president for Latin American sales. "The Bell 407GX continues to receive a positive response around the world across multiple segments, but particularly from parapublic agencies for offering the most advanced technology to help better serve and protect their citizens."

As the primary aircraft operating branch of the Mexican Armed Forces, the FAM covers the entire country, with 18 military air bases located across Mexico. The FAM have been operating Bell helicopters since 1973 with the delivery of a Bell 206-B, and their fleet currently includes a Bell 412EP, Bell 212 and Bell 206.

The Bell 407GXs will be operated by the 111th Air Squadron based at the Military Airbase in Zapopan, Jalisco.

"Bell Helicopter has close to 1,400 commercial aircraft flying in Latin America and more than 340 in Mexico alone, so the region continues to be an important market for us," added Ortiz.

The Bell 407GX delivers power and speed with a smooth, quiet ride and a spacious cabin that accommodates six passengers. The aircraft also features the fully-integrated Garmin G1000H™ flight deck, providing critical flight information at a glance for greater situational awareness and increased safety. The Bell 407GX flight deck's high resolution LCD screens host primary flight and multi-function display information, including Helicopter Terrain Awareness Warning System, Helicopter Synthetic Vision Technology™, Traffic Information Systems and more. The Bell 407GX also features a tail rotor camera, allowing the pilot a clear view of the tail during take-offs and landings.

About Bell Helicopter: Bell Helicopter, a wholly owned subsidiary of Textron Inc., is an industry-leading producer of commercial and military, manned and unmanned vertical-lift aircraft and the pioneer of the revolutionary tiltrotor aircraft. Globally recognized for world-class customer service, innovation and superior quality, Bell's global workforce serves customers flying Bell aircraft in more than 120 countries.
407GXP in

Fuerza Aerea Mexicana