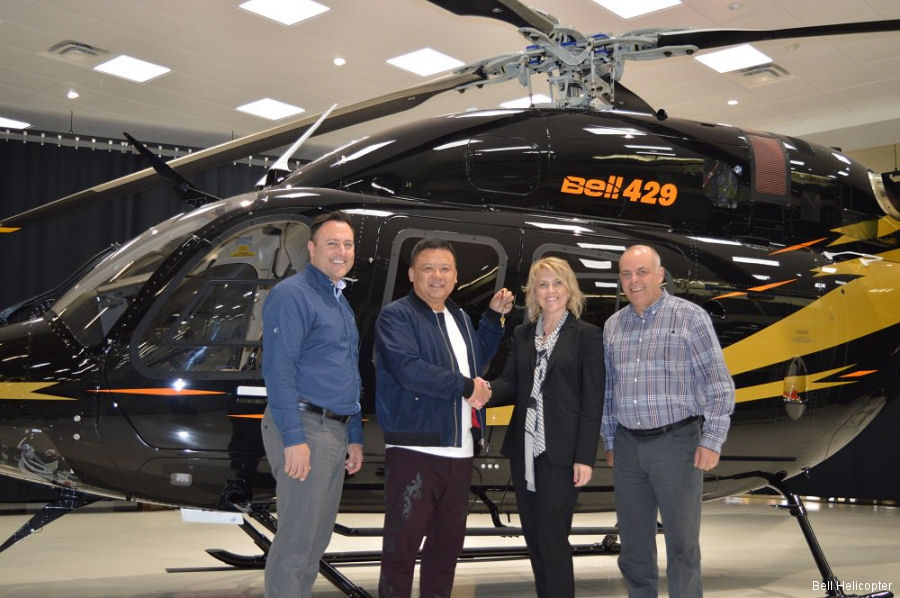 Bell Helicopter, May 10, 2017 - Mirabel – Bell Helicopter, a Textron Inc. company, announced today the delivery of a Bell 429 to Beijing Jinyu General Aviation Co., Ltd. (Beijing Jinyu).

The customer's Bell 429 is outfitted for multi-mission capabilities including Helicopter Emergency Medical Services (HEMS). Beijing Jinyu accepted the delivery at Bell Helicopter's facility in Mirabel, Canada.

"The Bell 429 is quickly becoming the aircraft of choice in China for mission critical flight operations, including HEMS," said Jose Jacinto Monge, managing director, China. "The Bell 429 is backed by the largest customer support network in the industry and we are honored Beijing Jinyu has put its trust in Bell Helicopter and the Bell 429 to serve the people of Beijing."

Established in October 2016, Beijing Jinyu is a general aviation business group focused on private and commercial pilot training, aircraft operations, charter, and a variety of helicopter utility missions ranging from fire-fighting to air ambulance services.

Designed with the future in mind, the Bell 429 meets and exceeds today's airworthiness requirements to enhance occupant safety, with the adaptability to remain at the forefront as mission requirements evolve. As part of our continuous product upgrades, the Bell 429 has recently received type certification from Transport Canada to operate with an increased external load up to 8,000 lbs., adding an additional capability of 500 lbs. Innovation is at the heart of the Bell 429 light twin helicopter. The use of metallic and composite parts in its construction creates the perfect balance between rigidity and flexibility, safety and durability. An advanced avionics and systems monitoring suite ensures outstanding maintainability and aircraft readiness.

About Bell Helicopter: Bell Helicopter, a wholly owned subsidiary of Textron Inc., is an industry-leading producer of commercial and military, manned and unmanned vertical-lift aircraft and the pioneer of the revolutionary tiltrotor aircraft. Globally recognized for world-class customer service, innovation and superior quality, Bell's global workforce serves customers flying Bell aircraft in more than 120 countries.

About Textron Inc.: Textron Inc. (NYSE: TXT) is a multi-industry company that leverages its global network of aircraft, defense, industrial and finance businesses to provide customers with innovative solutions and services. Textron is known around the world for its powerful brands such as Bell Helicopter, Cessna, Beechcraft, Hawker, Jacobsen, Kautex, Lycoming, E-Z-GO, Greenlee, Textron Off Road, Textron Systems, and TRU Simulation + Training.
Location :

Mirabel
Bell 429

China